With a name like ours it's no wonder we are always being asked how we are different. In this blog post we will break down the key things that set us apart from traditional property managers and how we are shaking up the industry.

1. We're redefining what it means to be "full service"
We are :Different because we offer true "full service" property management: exceptional service from property experts paired with smart technology available at your fingertips. We don't believe anyone can match us on this offering.
When our co-founders Mina & Ruwin (hailing from the tech giants Google & Uber in silicon valley) put their attention on the property management industry, they realised something had to change: landlords weren't happy, tenants weren't happy, even property managers weren't happy! The whole industry was crying out for an overhaul. Their solution? Bring their expert knowledge on smart technology to the forefront of property management and combine it with the tried and tested expert: real life property agents.
The result is what we are today: a full-service property management company (yes, we have real people!) that is powered by intelligent tech working around the clock 24/7 to make everyone's lives easier. And because this technology picks up a lot of day-to-day work that agents in traditional companies would do, it frees up our people to do the important stuff. It also saves us a bunch of money, which we can pass back on to our customers (hence our low flat fee).

2. Our customers love us
On average, our customers rate us 9.4/10 – much higher than the industry average. Everything we do is to ensure our customers love us, we work hard to make every experience delightful & take away all the hard work and stress that landlords and tenants usually feel.
How we do this goes back to point #1: our technology does a lot of the heavy lifting (and never sleeps!) so you are always a click away from anything you need. And for everything else, our team of property experts are on call to solve problems & help out.

3. Our flat fee (with no hidden "gotchas")
Skeptics will try to find loopholes but our flat management fee of $100/month is as simple as it sounds, with no hidden extras (and that's inclusive of GST!). No gotchas here. We operate on a model of full transparency (we want our customers to love us remember?) so you know what you're getting up front. And the good news? You get a lot for that low price!
> See what's included in our $100 flat fee
Need to find a tenant for your place? This is an additional service to our management fee and we charge a flat leasing fee of $500 plus $500 marketing fee (including GST). You can learn more about this charge & how we find the best high-quality, long-term tenants for your place here.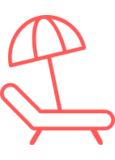 4. Peace of mind is key
We want our landlords to know they can rest easy when they join :Different. Alongside our amazing people & intelligent tech, we have a few more extras to create peace of mind:
----

At the core of everything we do here at :Different is creating an amazing experience that resonates with property investors and makes their lives easier. This may start with our low flat fee of $100/month, but it goes much deeper: we are building a team of the best property experts whilst also constantly improving our technology to make it easy to use and (most importantly) useful for landlords & tenants.
We are here to build something :Different and we are excited to bring you along on this journey.