Thinking of moving to the River City? Located in the sunny state of Queensland, Brisbane has a lot to offer its residents. With stunning beaches and plenty of green spaces, to a vibrant cultural scene and an active business centre, it's no surprise that the city has seen a significant increase in demand for rental properties in recent years.
We're taking a closer look at the rental market, the average price change over the years and the prices you can expect to pay in 2023. Whether you're a student, a young professional or a family looking to settle down in Brisbane, this is the guide for you.
Current Brisbane Rental Market Trends
Australia's ongoing rental crisis has hit Brisbane hard, resulting in some of the sharpest falls in affordable housing prices. The availability of rental properties in Australia for below $400 per week has fallen to 17.6%, a sharp decline from less than a year ago, and experts do not predict any relief soon. 
Let's take a look at some of the reasons for the current rental shortage.
Statista Research Department (April 2023)
The opening of Australia's borders in late 2021 led to a significant increase in demand for rental properties, particularly in major cities like Brisbane, which are popular destinations for professionals, international students and tourists.
Devastating floods in March 2022 displaced hundreds of families and damaged many properties, further tightening the rental market and leading to a rise in rental prices.
The Australian Bureau of Statistics (ABS) also noted a recent trend of population movement from capital cities to regional areas, and Queensland has seen alot of this activity.
The state proactively promoted regional migration as part of its economic development strategy; this put additional pressure on rental markets in urban areas like Brisbane, where demand for rental properties was already high.
The subsequent shortage of rental properties has resulted in Brisbane's rental market experiencing record rent hikes once again with house rents rising by 18.1% and unit rents by 13.6% across 2022.
However, a March 2023 Rental Report by Domain, shows that while prices have continued to increase, the rate of growth has slowed. Although rents may not rise to the same magnitude as last year, renters should still expect to pay premium rates in 2023. 
"Although we are likely to see rental prices continue to grow, the rate of growth is expected to slow throughout the year as the impacts of the pandemic begin to fade, and more supply enters the market."
Dr. Nicola Powell, Chief of Research and Economics at Domain
There is scarce availability of rental housing on Brisbane's northside, with vacancy rates below 0.9% in Strathpine, Nundah, and Sandgate. In February 2023, rental demand was strongest in Sunnybank, followed by Rocklear and Mount Gravatt.
Recent research shows that house rentals last an average of 14 days on the market, and even lower in certain suburbs with high popularity. 
The median rent in Brisbane for all houses is $674 per week while unit prices sit slightly lower at $526 per week.

This is a 13% increase for houses and a 24% increase for units since April 2022. 
SQM Research, Property Weekly Rents (April 2023)
Brisbane rental market trends over the past 5 years
Brisbane's rental market has undergone significant changes in recent years. In 2018,  the city experienced the highest interstate migration rates in the country, thanks to affordable housing and employment opportunities. However, this led to reduced rental demand in Greater Brisbane and increased demand in the inner city, which saw little to no stock due to the unit construction boom.
Reports from Domain indicate unit rents dropped by an average of 5.5% annually, while house rents fared slightly better, with an average rental hike of 1.5%.
In 2019, the rental market in Brisbane tightened slightly, with houses in Greater Brisbane and Brisbane City Council reporting slight rent hikes, while house rents in other areas showed little to no change. The annual rental growth rate for units was 1.3%, with the vacancy rate falling from 3.1% to 2.9%. The strongest increase in unit rents was in the inner city, where fully-furnished apartments were in high demand among interstate workers, international students, and business executives.
The rental market in Brisbane continued to tighten in 2020, with houses reporting a 3.7% annual rent increase and units reporting 3.9%. The city surpassed Melbourne in rental rates for the first time in 5 years, and the demand for inner-city apartments picked up due to the work from home trend.
In 2021, the staggering rise in average rent for houses and units with more bedrooms was primarily driven by the pandemic-induced work from home trend, coupled with low-interest rates and a shortage of housing supply. During the year, the average house rent in Brisbane rose by 12.9%, and units rose by a record 5%. This made Brisbane achieve a record for the longest period of continued rental growth in 2021, with house rents having risen across a record of 6 consecutive quarters. 
By the end of 2022, the city's streak of rising house rents had halted and held steady at a record high, while unit rents continued to break records with a 14.3% annual growth rate and 14.6% annual rental hike. Brisbane was also reported to have some of the highest rental yield suburbs in 2022. 
Average rent for houses in Brisbane over the past 5 years (2018-2022)
Despite a slump in 2019, Brisbane's house rents shot up during the next few years as the borders reopened and rental requirements changed.


Brisbane median weekly house rent 2018: $450
Brisbane median weekly house rent 2019: $461
Brisbane median weekly house rent 2020: $467
Brisbane median weekly house rent 2021: $511
Brisbane median weekly house rent 2022: $620

Source: SQM Research 
Average rent for units in Brisbane over the past 5 years (2018-2022)
The city's unit construction boom threw traditional rents into a tizzy. Rental prices in Brisbane picked up again from 2019, as more and more tenants chose space, comfort and convenience for their 'new normal'.


Brisbane median weekly unit rent 2018: $370
Brisbane median weekly unit rent 2019: $376
Brisbane median weekly unit rent 2020: $381
Brisbane median weekly unit rent 2021: $393
Brisbane median weekly unit rent 2022: $448

Source: SQM Research
Top 10 Growth Suburbs in Brisbane
Current trends show renters leaning towards affordable areas with a good balance of lifestyle, community and amenities. This list features suburbs that have investment properties with median prices below $600,000, and would be attractive to meet rental demand.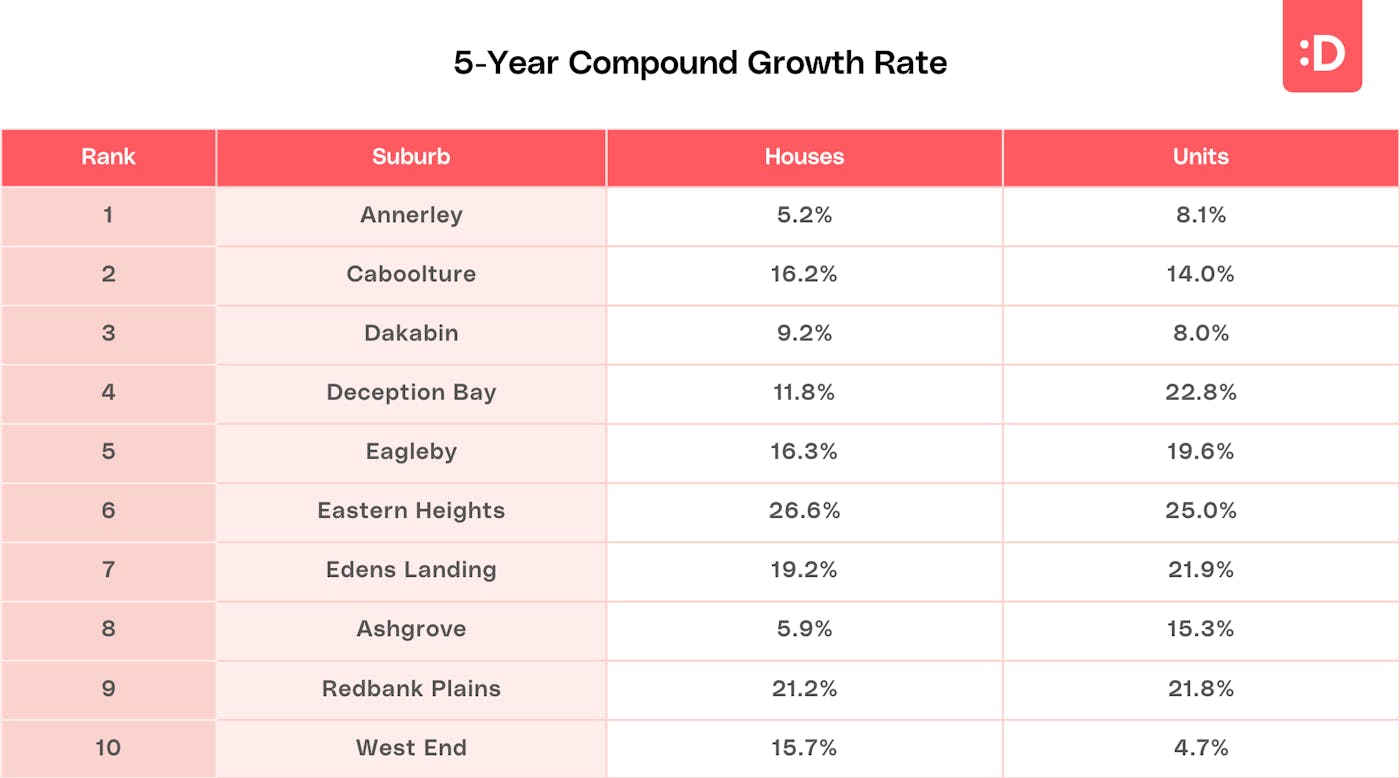 Snapshot of Rental Rates Across Brisbane (Houses & Units)
The highest median weekly rental rates for houses were recorded in Pullenvale ($1,250) while the highest median unit rates were seen in Teneriffe ($620).
St. Lucia and Ascot reported the lowest median weekly rent at $705 and $450 respectively.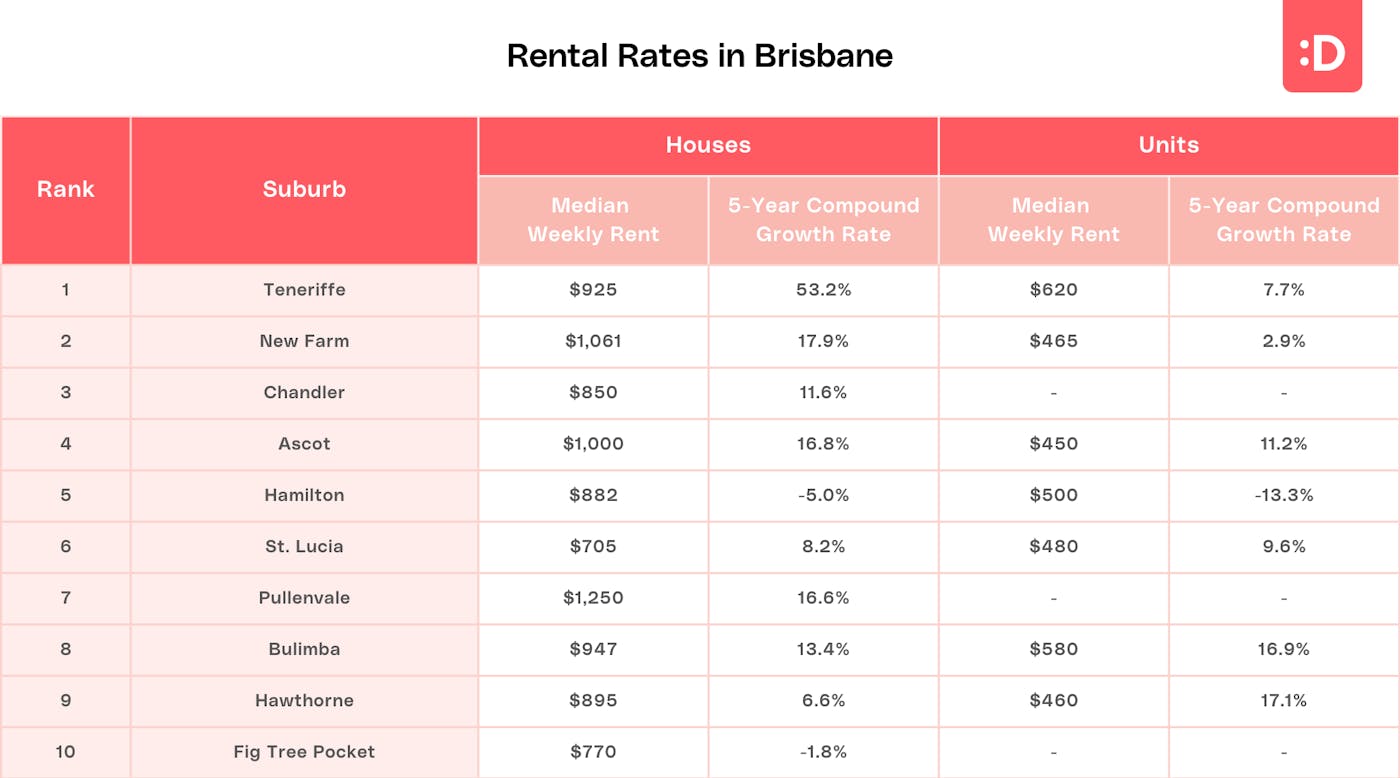 Future projections for average rental price in Brisbane
The Brisbane rental market is expected to remain tight in 2023 and beyond due to the city's high quality of life, growing employment opportunities, and ongoing infrastructure developments, including preparations for the 2032 Olympic Games. 
The city's successful bid to host the Olympics has created optimism and confidence in the local real estate market, with projected increases in rental demand along with rental hikes. Experts predict that inner-city areas and student campus locations in particular may experience high pressure rental markets.
"In 2023 we're going to see an ongoing slowdown and an easing of rental market conditions in regional areas of the country. But in the major capital cities — Sydney, Melbourne, Brisbane, Adelaide, Perth — we're going to see rental conditions tightened even further as more people come back to those cities and rental demand escalates"
Cameron Kusher, Director of Economic Research - REA Group
The current lack of rental supply has quickly spun Brisbane into a housing crisis. SQM Research reports that there are currently around 33,000 vacant properties in Australia - and its population is expected to grow by around 160,000 to 200,000 people every year.
Experts predict that the lack of housing supply, coupled with rising rental costs, may cause tenants to turn towards units for affordability. According to Home Loan Experts, unit rents are predicted to grow by 19% by 2025.
Want more insights into the world of property management and real estate?
Subscribe to our FREE quarterly newsletter for the best property content on the internet!
Disclaimer: The information provided on this blog is for general informational purposes only. All information is provided in good faith; however, we do not account for specific situations, facts or circumstances. As such, we make no representation or warranty of any kind whatsoever, express or implied, regarding the accuracy, adequacy, validity, reliability, availability or completeness of any information presented.
This blog may also contain links to other sites or content belonging to or originating from third parties. We do not investigate or monitor such external links for accuracy, adequacy, validity, reliability, availability or completeness, and therefore, we shall not be liable and/or held responsible for any information contained therein.