For 22% of property owners, stress is the emotion they most strongly associate with tax-time – and for another 22%, it's anticipation. What's common to both, however, is the sheer amount of admin and paperwork that's necessary to get through EOFY. 
That's why, leading up to EOFY 2019-2020, we set out to understand how we could help our owners lighten their load at tax-time. 
Through a survey to over a hundred property investors, we learnt that admin work and compiling data in preparation for tax returns was the biggest challenge faced by 78% of our customers. What's more, when we asked how :Different could help with their tax-time challenges, 51% of owners told us they wanted a "summarised report" in "one folder/email", broken down in a way which would be easy for accountants and owners to understand. 
So, what did we do with these learnings? 
As a company which builds property management software to tackle the problems that have traditionally plagued the industry, this is a problem we were built to solve. We were determined to come up with a solution which would take the menial (and manual) tasks off our owners' hands, and save them the hours they'd otherwise spend sifting through paperwork. 
The ultimate goal? To set our owners up with everything they'd need to stay organised and on top of their finances. 
Here's what we came up with. 
Introducing the EOFY pack
Our owners asked for everything they needed for EOFY in one place - so, that's what we built. 
In the first week of the new financial year, you'll find a link to download your EOFY pack from your Owner Portal and Owner App. The pack includes: 
An annual statement summary 
A detailed income and expenses breakdown for the financial year 
Downloadable copies of all invoices from the financial year 
Not only that, we've also made it easy to share these documents with your accountant, or anyone else who may need to review it. It's been built in a format that makes it easy for you (or your accountant) to simply copy and paste the numbers into your tax return, which also reduces room for error. 

It sounds pretty simple - and it is. But it's a simple solution which saves you the headache involved in the annual hunt for receipt and statements, and the time spent compiling the paperwork for your tax return. 

Our owners who used the pack last year rated it a 4.4 out of 5 on the "time-saving" scale, so you can trust that it'll take a lot of effort out of tax time this year. 
1. :Different processes your annual finances
From July 1st, our Finance and Engineering Teams work as quickly as possible to get your EOFY pack from our system to your inbox. It takes us about 1 week for us to get these to every owner powered by :Different.

You can be confident that we haven't traded off speed for accuracy – as all the numbers and details of your income and expenses already live in our system, getting your pack together actually happens pretty quickly. The 1-week window is, in fact, there for us to triple-check the numbers before we pass it on to you.
2. We'll ping you when your EOFY pack is ready to download
Once your EOFY pack is prepared, you'll get an email letting you know it's ready to download from your Owner Portal and Owner App. 
If you want to send it straight to your accountant: you can forward the ZIP file straight from your Owner App to your accountant's email address. Of course, you can send it to anyone you want to share your pack with, too. 

If you're planning on lodging your tax return later: you can download it so that you know exactly where it is once you're ready to tackle your return.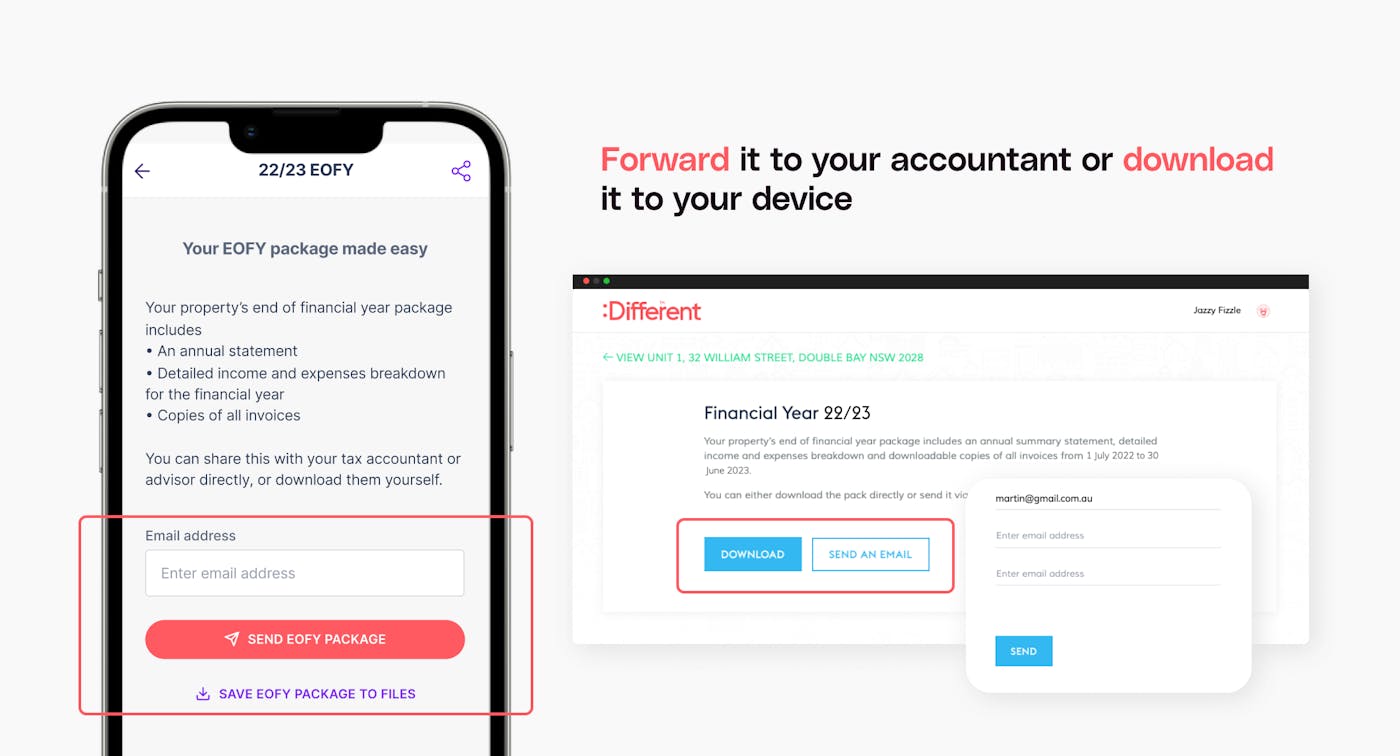 If you're doing your tax return yourself: everything you need to lodge your return is in this pack, in an easy-to-understand, user-friendly format. 
A stress & headache-free EOFY. It's that simple.
"I just printed it out and gave it to my accountant. No time spent digging around for invoices or chasing up my previous agent to do their job in a timely manner. This was super easy and quick - it allowed me to lodge my return earlier this year."
A happy :Different owner from last EOFY
Seeing our EOFY pack from our customers' eyes
Here at :Different, we always make sure that the tech that we build actually brings real value to our customers. That's why we sent a follow-up survey to owners to find out whether the EOFY pack actually made a difference for them in EOFY 2021/2022. 

Here's what we found. 

77% of our owners downloaded and used their EOFY pack to help with their tax returns in EOFY 2021/2022. 51.2% forwarded the pack to their accountant, and 26% used it when doing their own tax lodgements. 

Of course, this statistic alone wasn't enough to prove to us that owners actually found these packs useful. So, we asked how satisfied they were with their EOFY packs against these criteria: "time-saving", "easy to download", "easy to use", and "contained all the info I needed". Here are the results:
:Different owner satisfaction - EOFY pack
| | |
| --- | --- |
| | |
| | |
| | |
| Contained all the info I needed | |
| | |
And finally, we asked the question: "What was the most useful feature of the EOFY pack?"

We found that for 53% of owners, it was having their information consolidated in one place. Here's a response from our survey which summarises the experience:
"Being able to download all the documents I needed in one file. Rather than hunting around and getting each file individually. This was a massive time save and peace of mind knowing everything was there."
Want more tips to help you breeze through EOFY and maximise your tax returns? We've written a handy investor's EOFY checklist to help you prepare for tax-time this year.
Disclaimer: The information provided on this blog is for general informational purposes only. All information is provided in good faith; however, we do not account for specific situations, facts or circumstances. As such, we make no representation or warranty of any kind whatsoever, express or implied, regarding the accuracy, adequacy, validity, reliability, availability or completeness of any information presented.
This blog may also contain links to other sites or content belonging to or originating from third parties. We do not investigate or monitor such external links for accuracy, adequacy, validity, reliability, availability or completeness, and therefore, we shall not be liable and/or held responsible for any information contained therein.