How do you manage the bills for your investment property?
For a lot of investment property owners, the answer isn't always clear. Perhaps you've asked your property manager to take care of your council and water bills – but are they taking care of your strata levies, too?
As a property investor, you can delegate bill management to your property manager, or choose to manage it yourself. But while it may seem quite simple to choose one of these options (or a mix of options) and run with it, the initial stages of delegating bills are often riddled with communication issues that can ultimately lead to missed bills, late payments, and unnecessary extra fees.
That's why we're here with a solution.
With the new bill redirects feature, you can easily pass bill management onto your managing agency right from the Different Owner app. There's full transparency and accountability when it comes to who's responsible for your bills, giving you peace of mind that you're always in the financial green.
Introducing bill redirects in your Different Owner app
Your app now features a single place to easily select (and view) how you want your council, strata and water bills to be managed for each property.
This new update is designed to help you stay in control of your bills and finances by knowing exactly who is managing which bills, and being assured that they are paid on time, every time.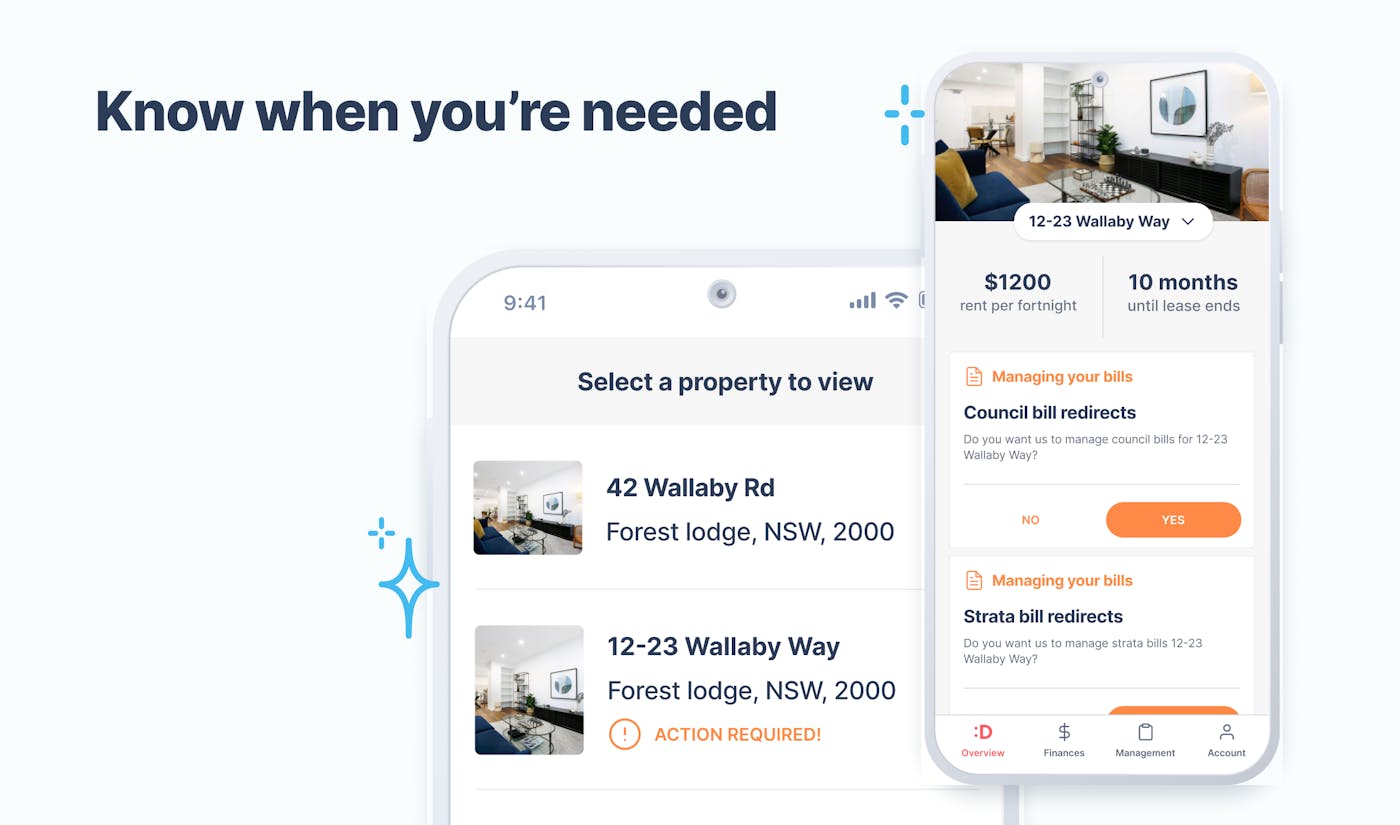 1. Know when you're needed, so your bills are always paid on time
To make sure that both you and your managing agency are on the same page, they will reach out to you if they haven't received your instructions on how you want your bills to be managed.
If any redirect instructions are missing for your property, you'll know immediately through prompts in the Overview tab of your Different Owner app.
Here, you'll be asked for your management preferences for 3 types of bills: 
Council rates
Water rates
Strata levies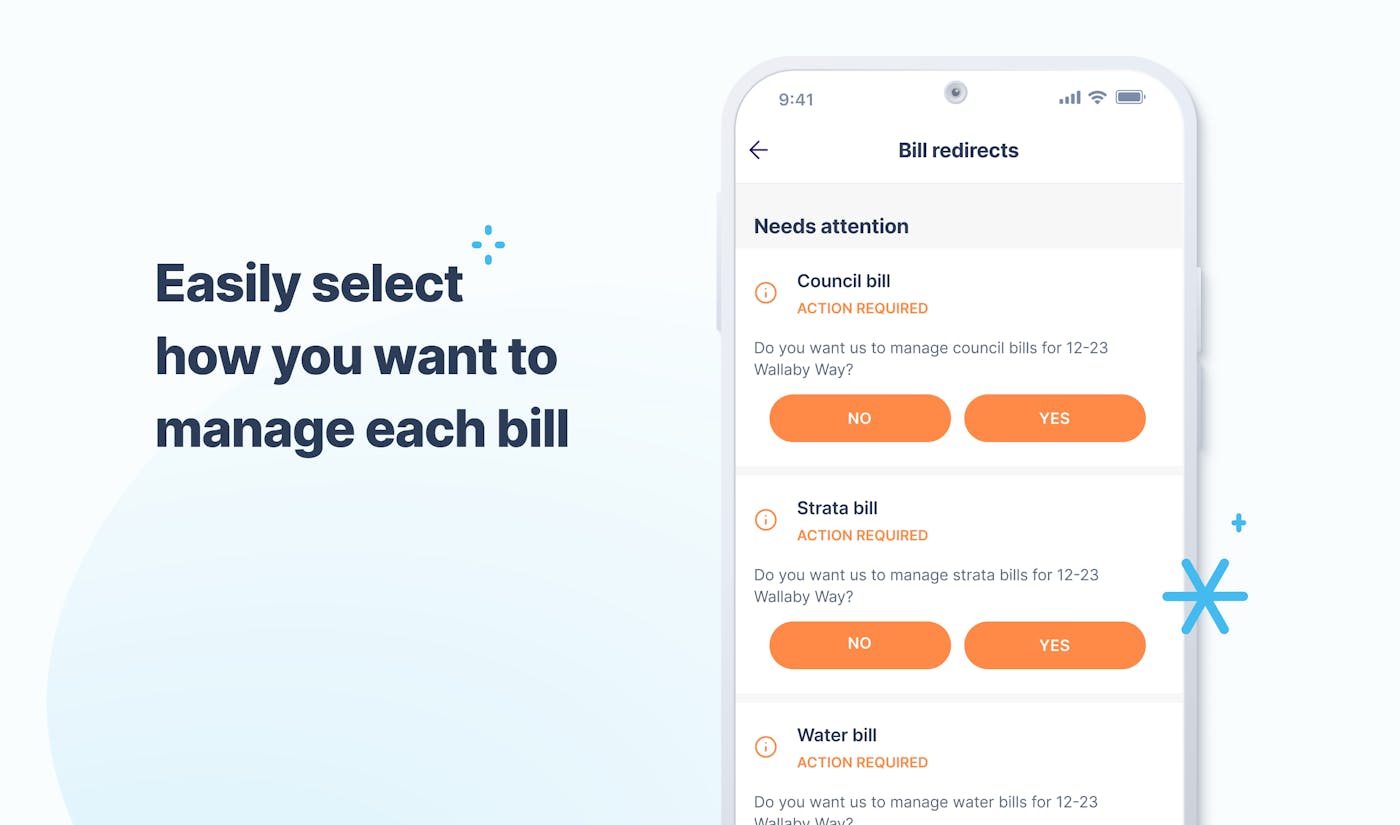 2. Easily select how you want to manage each bill
You can select how you want each of your bills to be managed in the Overview tab. From here, you can choose to: 
Have your managing agency manage the bill for you 
Manage the bill yourself 
Select if the bill is managed by a third party (such as the council) or if it doesn't apply to your property.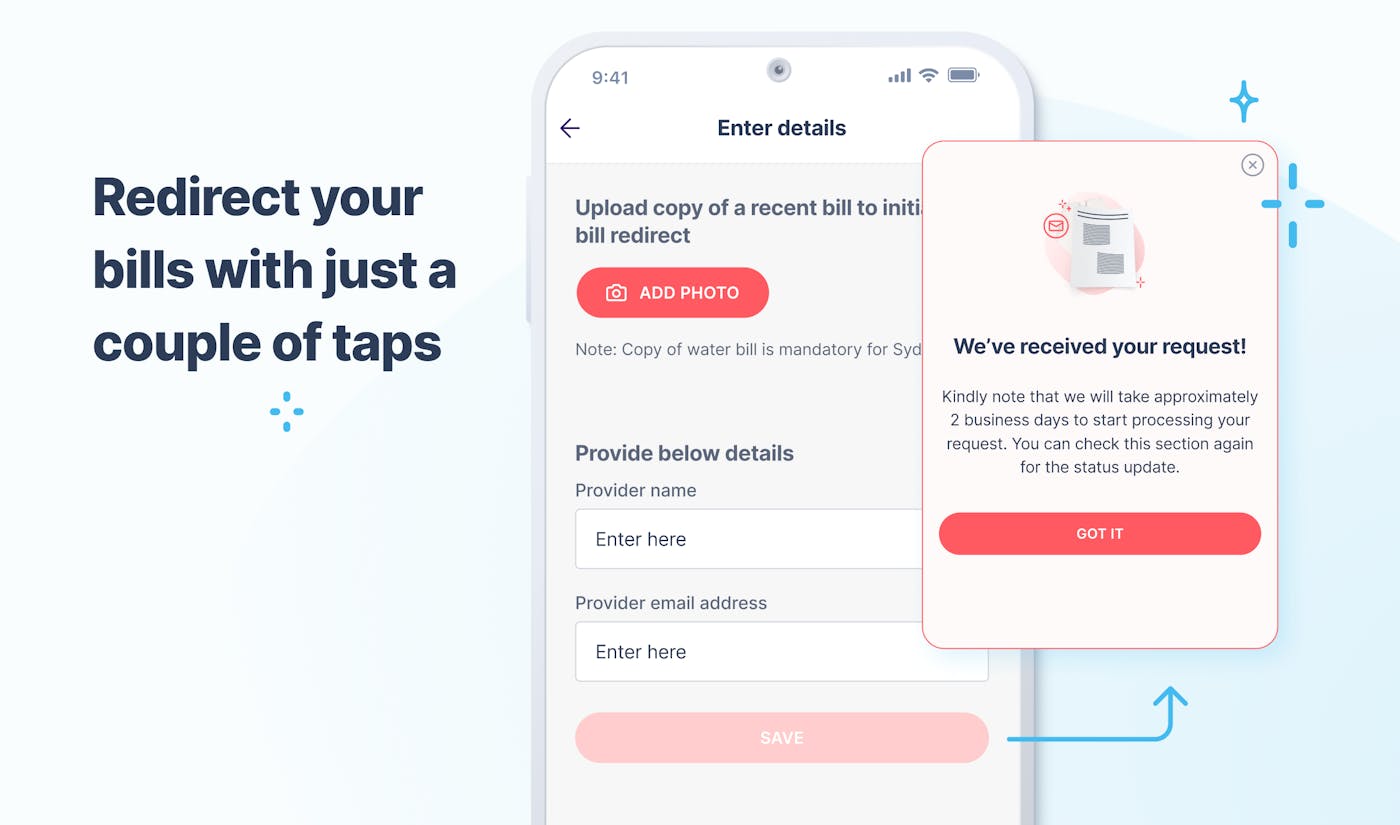 3. Let your managing agency handle your bills with just a couple of taps
Having your managing agency handle a specific bill for you is as easy as 1, 2, 3. To get going, you just need to enter 3 quick pieces of info, which you can do right on the app (no emails!):
A photo of a recent bill
Provider name (This can be the local council, Sydney Water, the name of your strata, etc.)
Provider email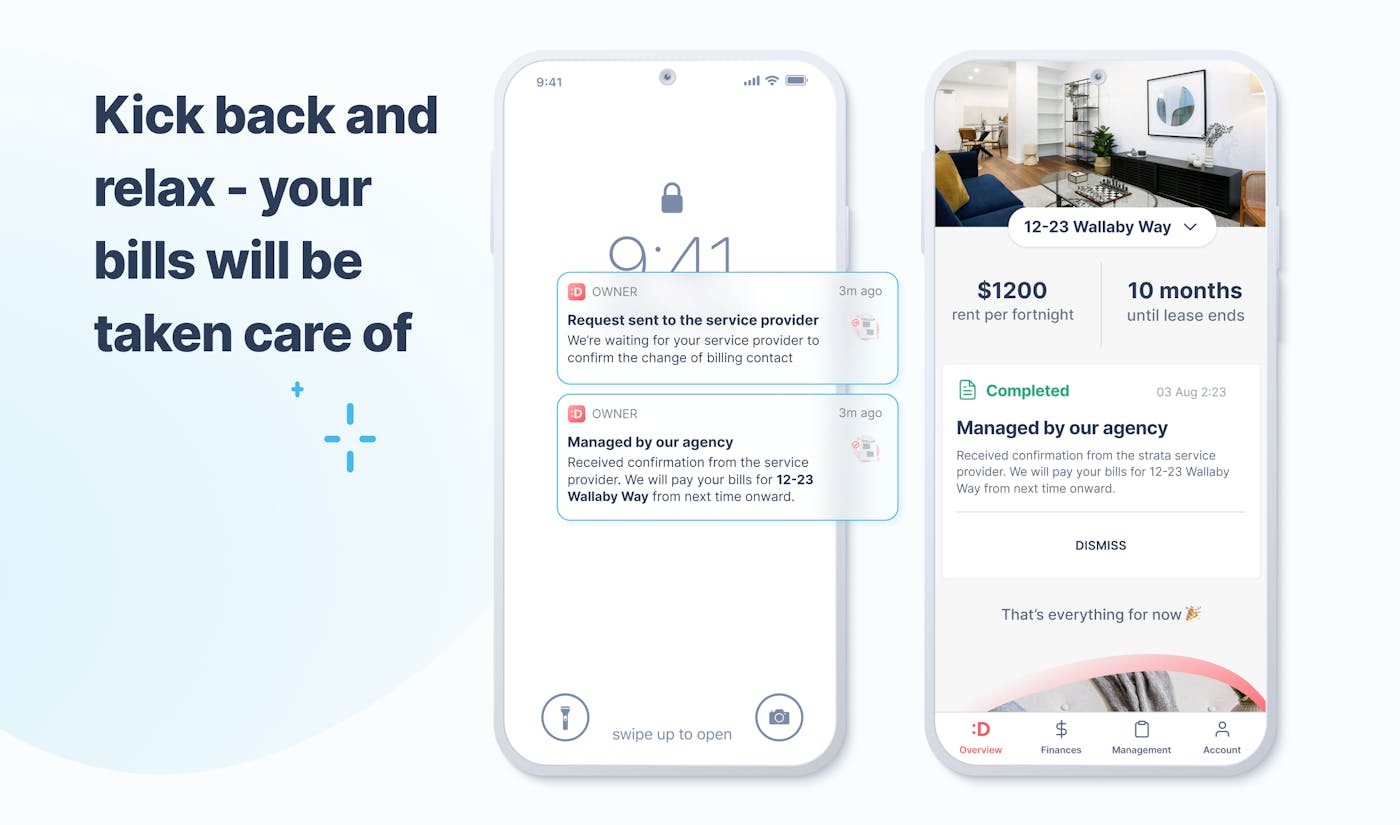 4. Kick back and relax - your bills will be taken care of!
Once you've entered the required information for your bills, you can kick back.

Here's what happens next: 
Your managing agency will contact your service provider to request future bills be sent to them.
When the provider has confirmed the redirect, you'll get a notification letting you know that your managing agency is now officially managing your bill.
Your managing agency will also take care of future bill payments, deducting it from the rent received from your tenants. You'll have full visibility of these payments in your monthly statements, as well as be able to view copies of the bills in your Different Owner app.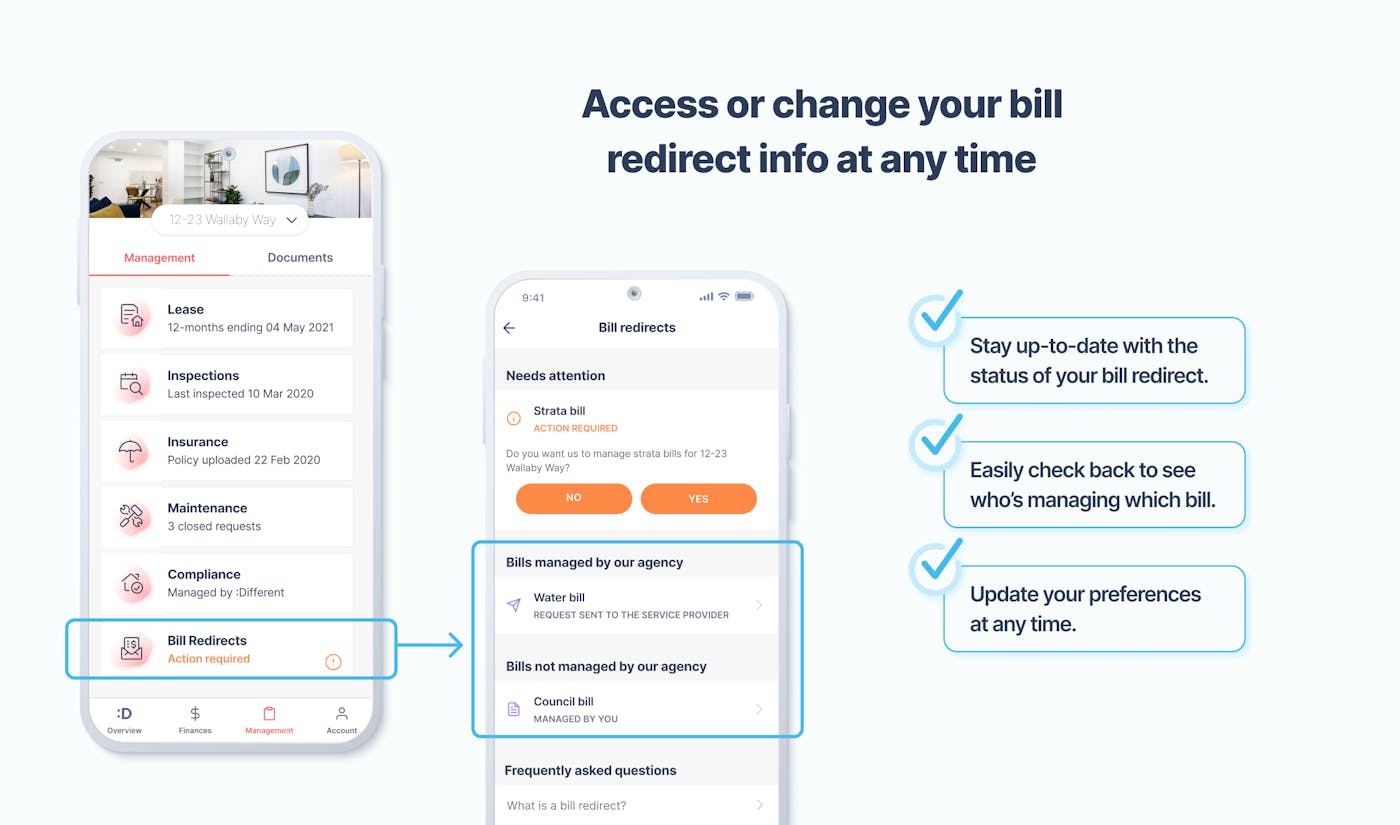 5. Access or change your bill redirect info at any time
The convenience of a bill redirect lets you set and forget your instructions for 3 types of bills.  
But if you ever want to change your instructions, check in on the progress of your bill redirect, or simply need a reminder of who's managing which bill, you can easily do this at any time through the "Management" tab in your Different Owner app.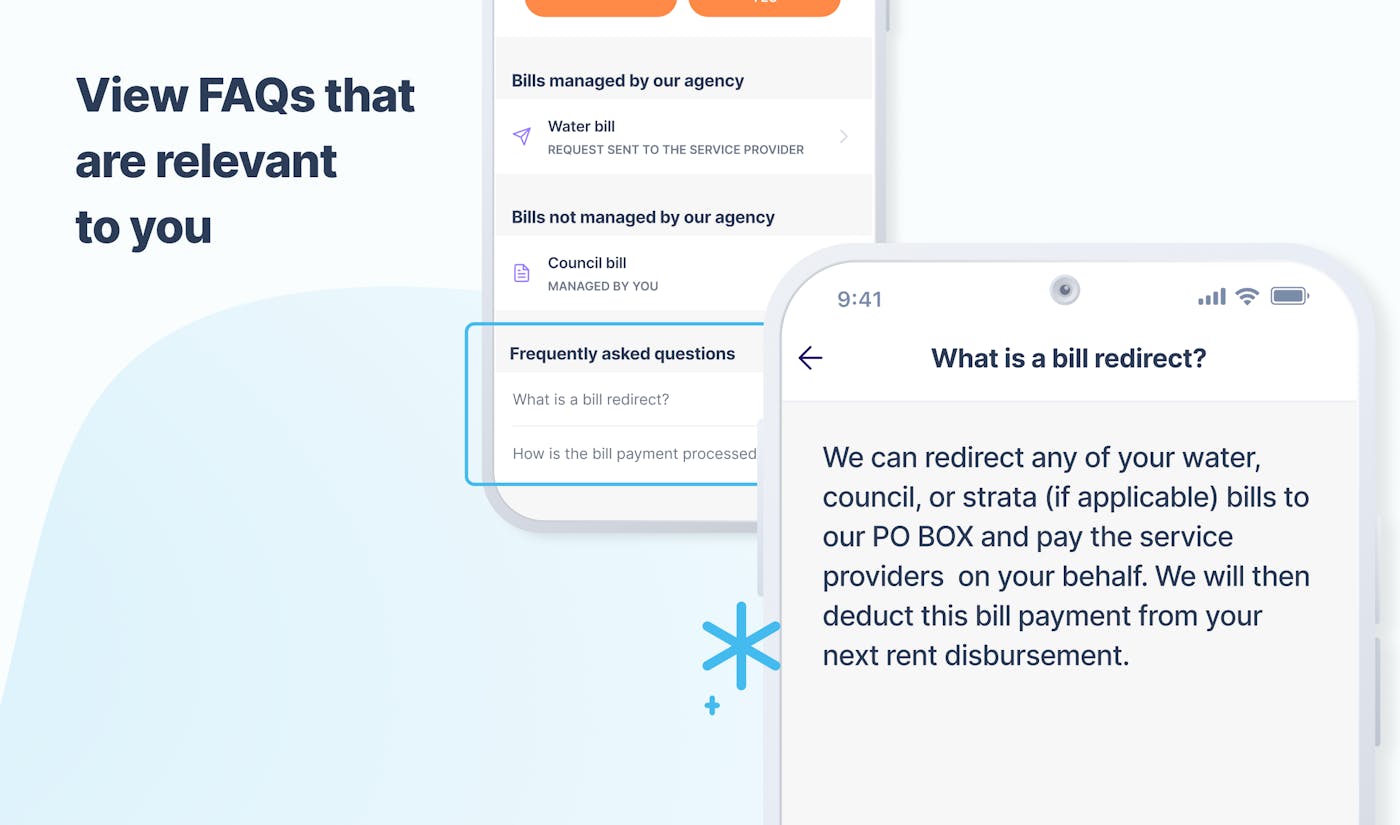 6. Got a question? Your Different Owner app has the answer!
If you have any questions about bill redirects and how they work, your answers are only a couple of taps away. FAQ's are located at the bottom of the Bill redirects section of your Owner App, and can be found by navigating to Management > Management > Bill redirects. 
If you can't find the answer you're looking for, just fire a message by tapping the button at the bottom of your Bill redirects screen, and you'll get a response ASAP.