No one wants their investment property sitting empty for too long; that's why leasing is such a pivotal time for every investor. You need to minimise losses by reducing time on the market and maximise gains by finding good quality, long-term tenants. 
That's where we come in.
Every leasing campaign at :Different is handled with the highest level of service, skill and care. When your property goes on the market, you're assigned a dedicated, local leasing manager who is there to support you through the entire process - from getting your property ad online to receiving applicants, all the way to putting the keys into your new tenant's hands.

Still, when it comes to leasing your property, we understand that good service and an expert, trustworthy team is vital. Being able to access precise information quickly on your leasing campaign will let you know that everything possible is being done - and this is where your Owner App will be your best friend.
Introducing: Your Leasing campaign directly in your Owner App
Your Owner App now features a single space where you can quickly view information, updates and everything you need to know about your leasing campaign. The new app update is designed to help you stay in control of your investments with current and accurate information, so you always know what's going on throughout your leasing process.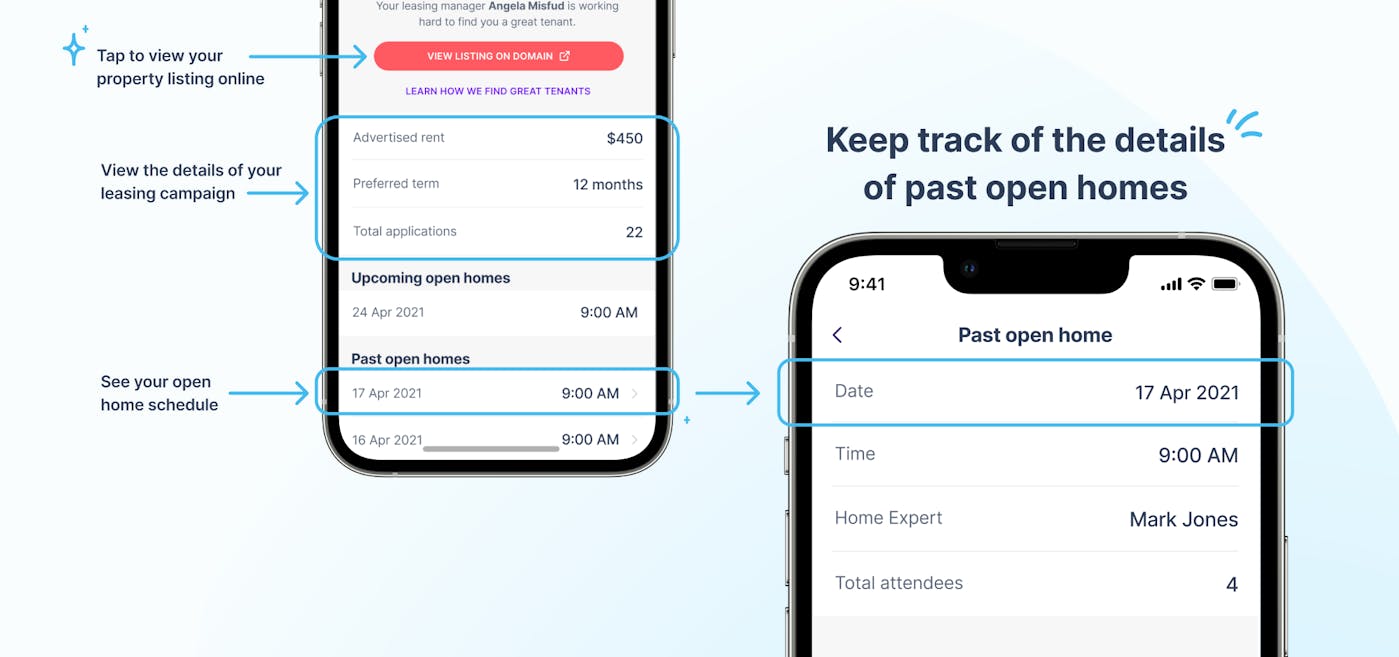 Quickly view key info on your leasing campaign
With one tap, you can now see all the details of your leasing campaign including:
Status of your leasing campaign
Advertised rent 
Preferred lease term 
Total applications 
Direct link to your property listing on Domain
 Keep track of your past & upcoming open homes
Once the ball is rolling and your property is available for midweek and weekend open homes, keeping track of dates and details can get overwhelming. The good news is that information no longer needs to live in your head. Via the Leasing section of your Owner App, you can keep tabs on:
Dates and times of your next open home
Details of your past open homes, including the number of attendees as well as the Home Expert who hosted it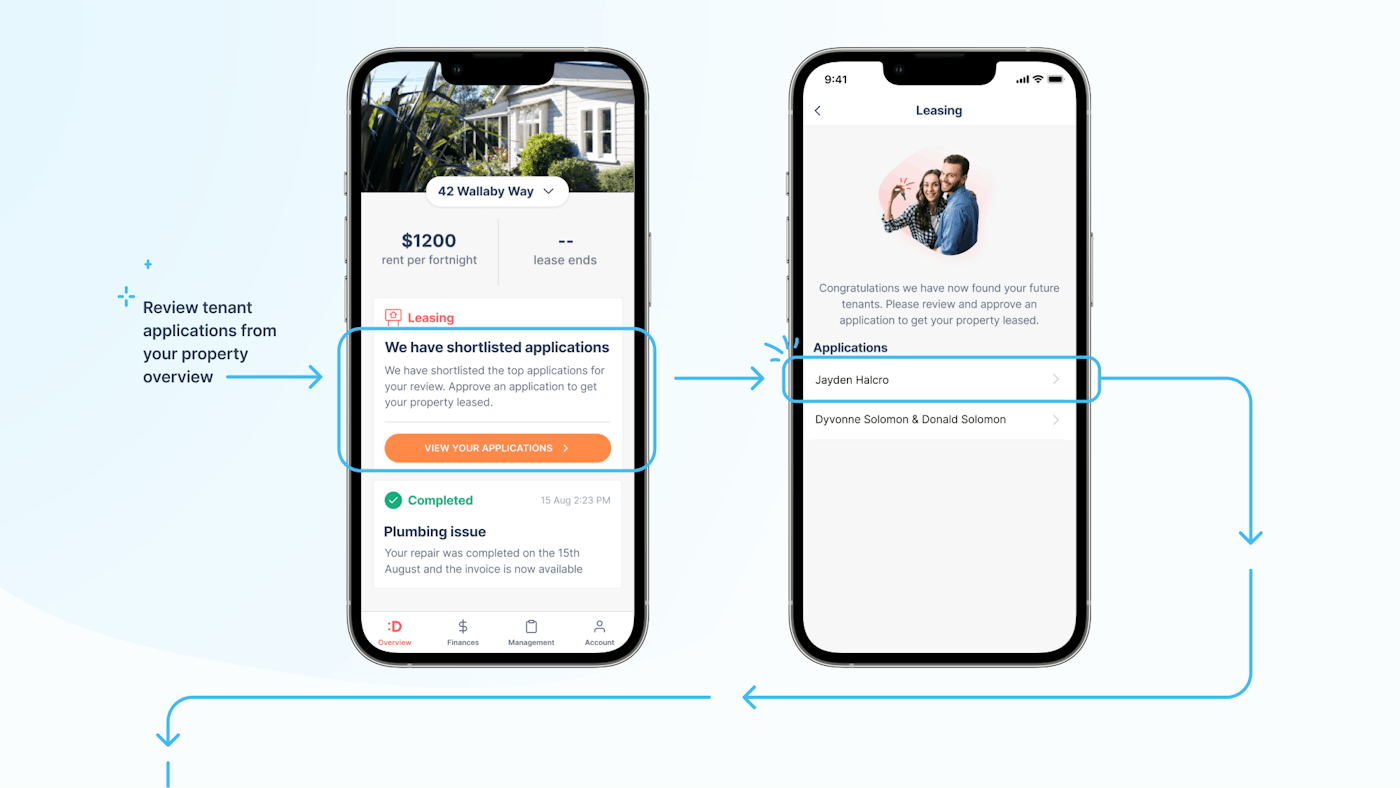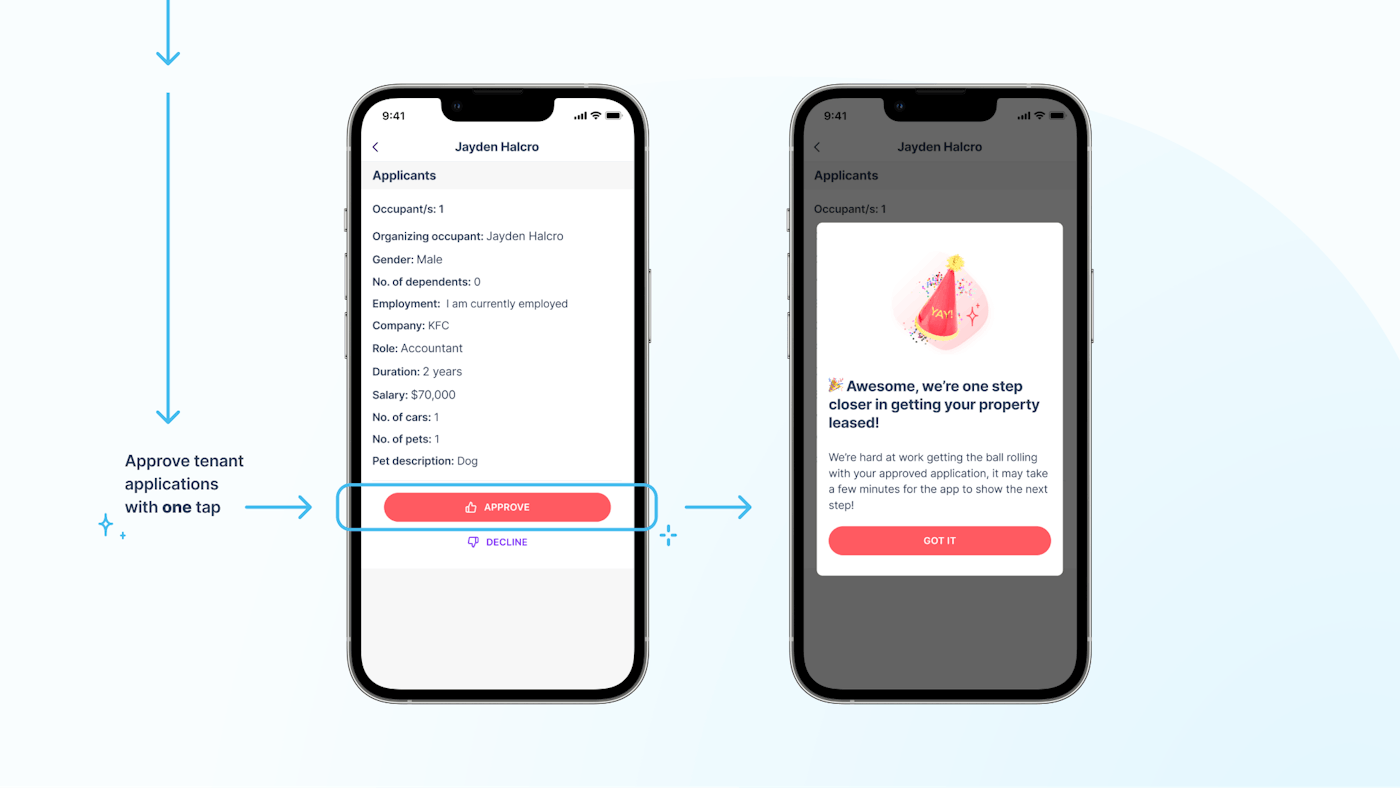 Track applications and more in your Owner App 
Keeping track of tenant applications has never been easier! With the Owner App, you can now view full applicant details and even approve or decline an application with the push of a button.
Click the "View your applications" button on the home screen to see all applications
View applicant details, including the number of occupants, employment details, number of cars/pets, and other info
Approve or decline the applicant with a single tap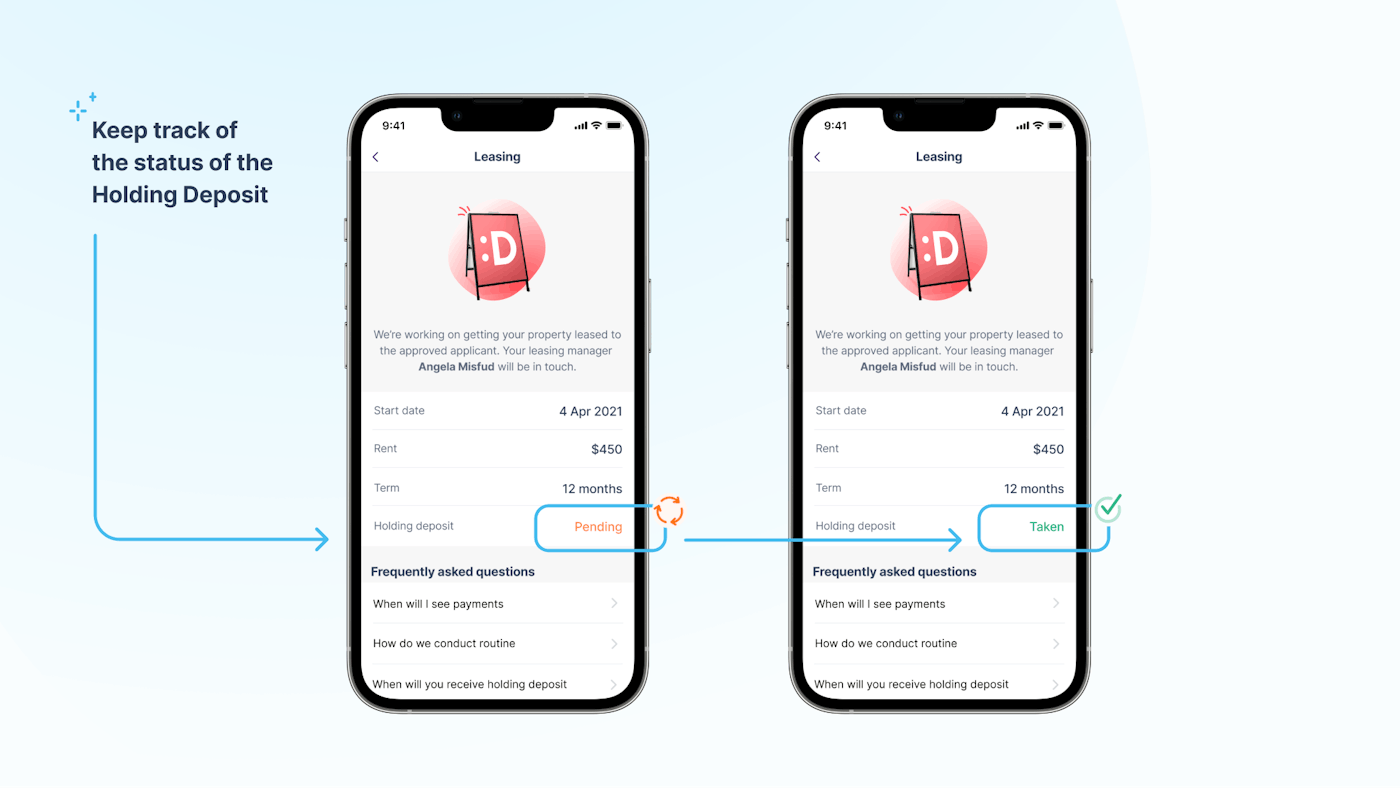 Keep an eye on the status of your Holding Deposit
Once you've approved an applicant through the Owner App, we take care of all the details by contacting the tenant for you, getting the lease signed as well as collecting the holding deposit. You can also view the status of the holding deposit right from the leasing details screen - no need to pick up the phone or keep checking your email!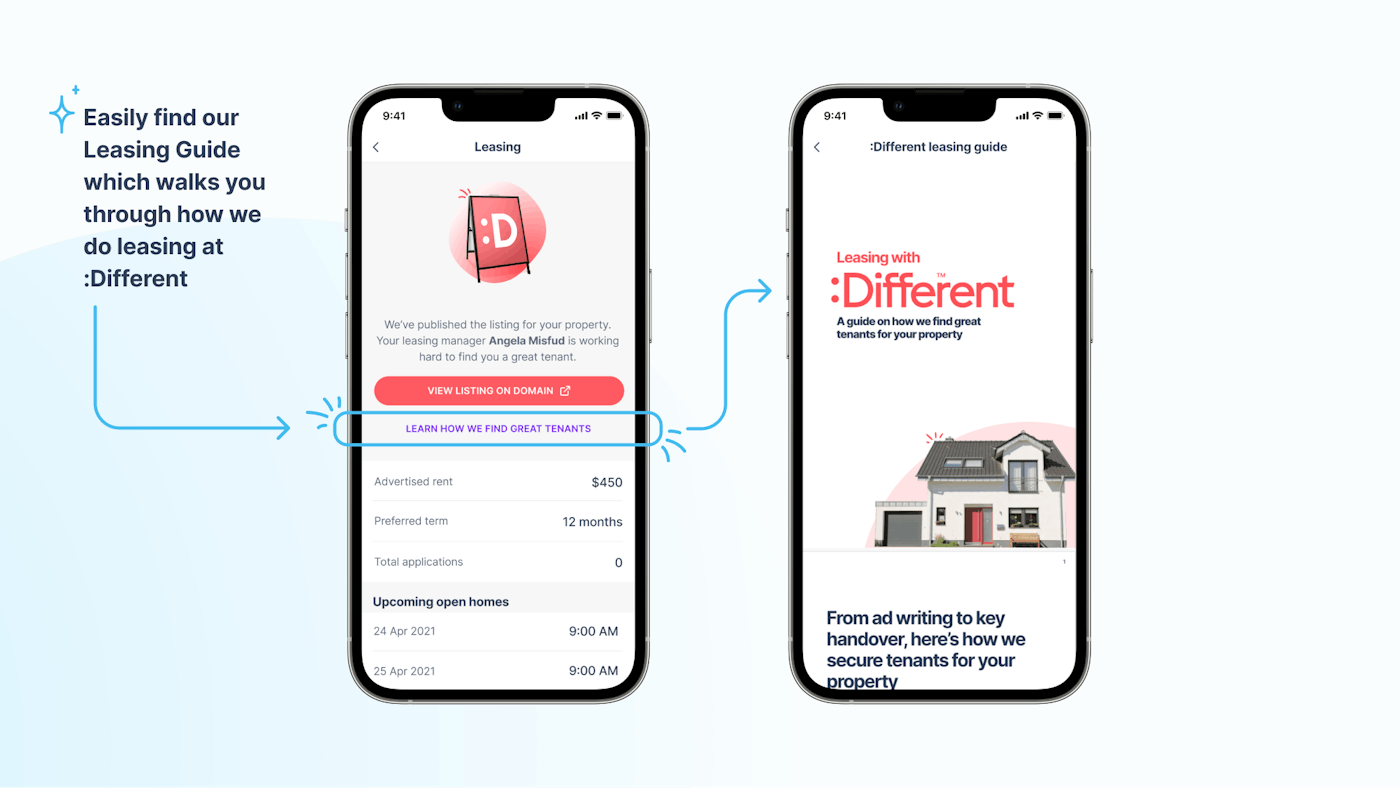 Got a question? Your Owner App has the answer!
Any property owner will inevitably have some questions throughout their leasing journey - and we're here to help! Your Owner App is equipped with everything you need to guide you along the way, saving you heaps of time and effort.

FAQ's are located inside the details section at every stage of the leasing process and will walk you through the specifics.

We've also added a handy, downloadable guide to our entire leasing process! If you're looking for extra information on leasing marketing strategies, simply tap "Learn how we find great tenants" in the Owner App, or click here to download the free PDF guide.
Finally! A single place to view information and updates on your leasing campaign
We know that leasing out your property can be an exhausting experience and our latest app updates are designed to cut out the stress.

We're excited to have combined our innovative tech with the experience and knowledge of our stellar team to bring you an app that works hard for YOU - stay updated, informed and in control of your investment at all times, in one single app.
Got questions, suggestions or comments? We'd love to hear from you!
Please feel free to reach out to us at hello@different.com.au
Disclaimer: The views, information, or opinions expressed in this blog post are for general information purposes only and should not be relied upon. We have not taken into account specific situations, facts or circumstances, and no part of this blog post constitutes personal financial, legal, or tax advice to you. You should seek tax advice from your accountant, specific to your situation.