Life is about to get a whole lot easier for :Different owners.
Since July last year we've been building our new Owner App to solve more problems and sources of stress our owners were feeling. The old app solved some, but we knew there was more we could do with our property management software.
By having in-depth conversations and tests with around 30 of our amazing property owners we were able to understand more about what they want from a piece of technology, and how we could make it :Different.
From that, we know that there are two types of property owners:
Hands-off owners who don't really want to use the app. They just want to get updated when something happens.
Hands-on owners who want to be kept more in the loop and have more control and agency over their property.
What unifies both, is that when something happens, they just want to hear about it, even if there's not really anything that needs to be done on their part.
Ultimately, we want the Owner App to be your source of truth. It should answer your questions before you ask them.
Patrick Dunne, :Different Product Designer
That's why, no matter what type of investor you are, our new Owner App is built to make property management easier and more stress-free.
The vision: A handy helper that always keeps you in the loop on what's going on with your property, and that has all the information you would ever need at your fingertips.
The old app provided a good starting point and gave good information, but it didn't do enough to really make people feel like their property is 100% safe and in good hands.
Patrick Dunne, :Different Product Designer
We know from our research that those who use the Owner App are more satisfied than those who don't. So even if you're someone who just prefers a phone call, there's reason to check it out. We'll explain why.
1. Overview: Everything that's important, available in real-time at a glance
Previously we made an assumption that we only needed to tell owners what to do, and that once it was in our hands, we shouldn't worry owners about it. As a result, our old app didn't do a good enough job of keeping owners in the loop.
Actually, we found that owners preferred to see the status of anything going on. A big part of our research this time was looking at a bunch of common questions, and making sure they were always answered at any time in the app.
Joel Pinkham, :Different Product Manager
We redesigned the overview-page to always show what is going on, right now. It's your way of getting an immediate picture of your property at a point-in-time.
⭐ NEW! Live status updates. In addition to all the information in the old version, like your current lease, we'll tell you what's happening at the moment, like how that maintenance request is coming along, what's coming up, and if there's anything that needs your attention.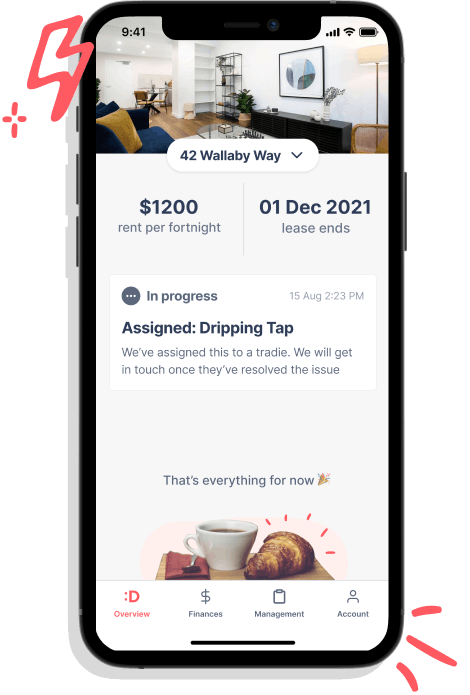 If something is about to happen we will prompt them to take an action. While it's happening it'll show up to make sure they're feeling confident knowing these things are moving along, and where it's at, without having to ask us.
Joel Pinkham, :Different Product Manager
It's our quest to have the answer to the question "what's going on with my property" at all times ready for our owners.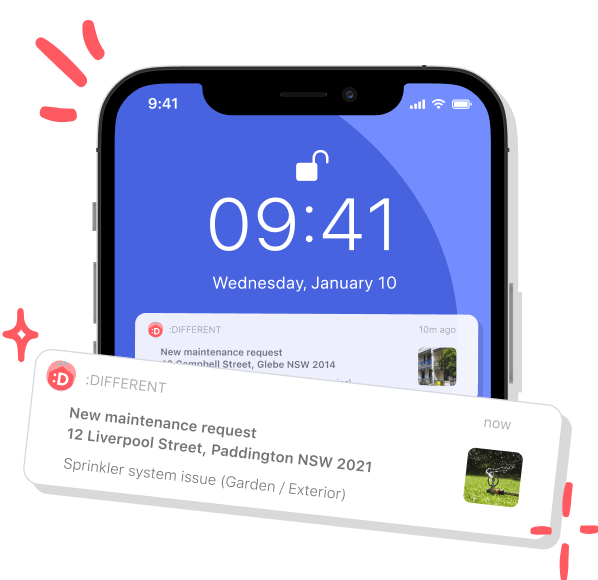 If the world's going perfectly, this is probably the only screen you'll ever need.
Patrick Dunne, :Different Product Designer
If you're more hands-off, the overview page is likely where you'll spend 90% of your time in the app if you're a :Different owner.
Yes, the occasional pop-in will be enough!
2. Finances: More of what worked well, but with even less stress
We know from our conversations with owners that the finance page was well-liked, so we made a conscious effort to not fix something that wasn't broken.
Like in the previous version, owners get a high-level summary to see how much money their property brought in, what they paid, and what we paid to them.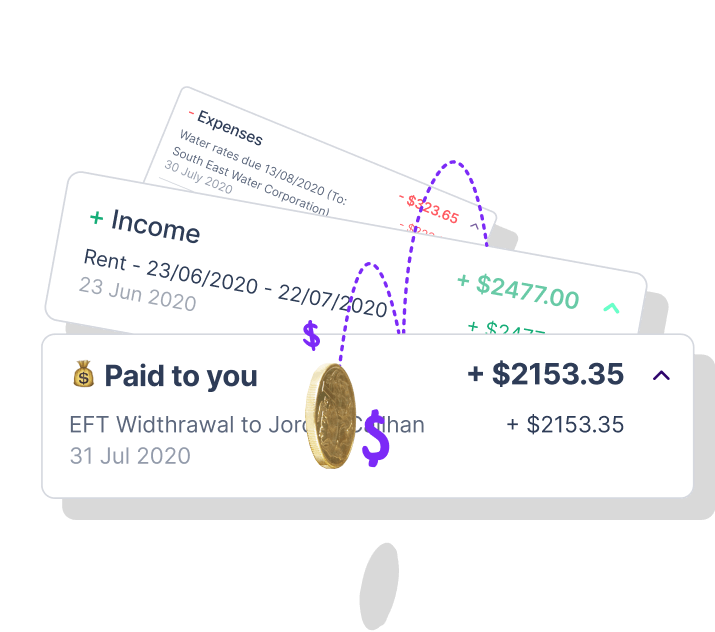 But, we knew that we could do more for those who want to get into the nitty-gritty of their expenditure, without having to contact :Different.
Joel Pinkham, :Different Product Manager
Tax-time is a source of stress for owners, so we made a new EOFY-section to help make it smoother.
Patrick Dunne, :Different Product Designer
⭐ NEW! Owners can now dig into all their financial documents from the finance page. You'll find your invoices, your EOFY package, your statements, and so on.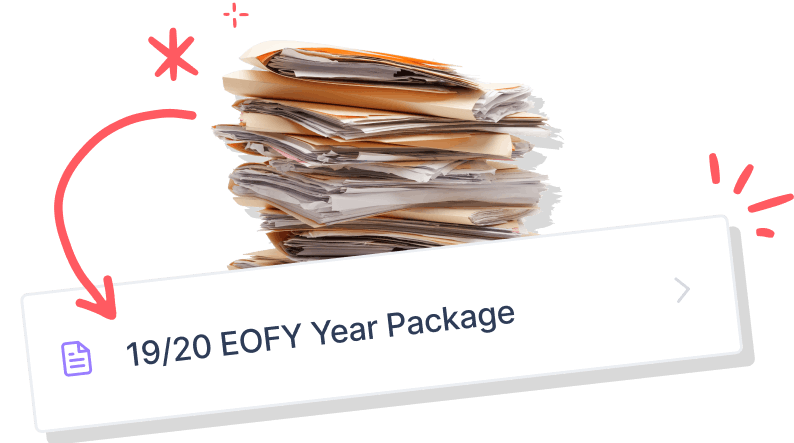 You might be thinking: "Does this mean I'll have to check my finance page when I'm waiting for my EOFY pack until it's there?"
Nope! We'll ping you when it's ready for you on your overview page. The same goes for any statements that we've just added. It's really just for those times you want to understand a little more about what happened last month or earlier.
From now on, if you need to access any details, the :Different Owner App can find them without making you wait for us to respond.
While the overview page tells you everything you need to know right now, there are times when there is a specific concern, fear, or question you have, in which case you need to dig a bit deeper.
We want to enable our owners to do that yourself without having to wait for an answer from us. So in those moments, the brand new management page is where they start looking.
⭐ NEW! The Owner App now has a page called 'management'. Everything about the property and the things we look after for our owners can be found in detail here. If you need more information about any aspect such as leasing, inspections, your insurance, and so on, this is the place to go.
Most of the time you don't need to know this, but it's important for you to see that all the info is there if you at some point do need it.
Joel Pinkham, :Different Product Manager
Owners used to only see your documents on the old property page, but now they can for example click on 'lease' to see all the details and some FAQs.
This helps :Different owners keep all their documents and details in one place, and becomes their one-stop-shop for all things nitty gritty in regards to their property.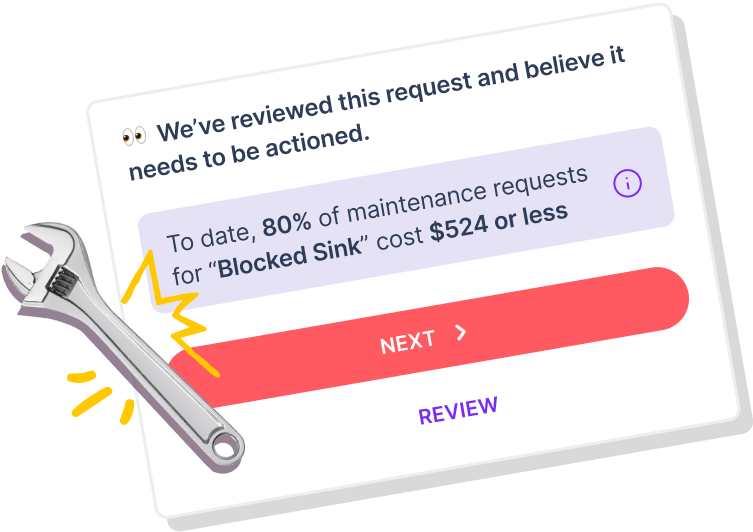 We used to get really simple questions about stuff back in the day, which wasn't a good experience for the owner, so we wanted to eliminate that. We did this by giving a breadth of information and knowledge for owners to see before they had to go and message us.
Patrick Dunne, :Different Product Designer
4. Never explain the same situation twice again
We're making steps to get to the point where owners will never have to explain their issue twice when they make an inquiry with a member of our team at :Different.
⭐NEW! Owners can now contact us about any issue, Joist for their invoices, directly when viewing a maintenance request, an invoice, a status update, and so on. We'll know what you're talking about. Simply click the 'send us a message'-button while you're viewing a card, and we'll already have all the details!
For those of you who just prefer handling things over the phone, this is your reason to care about the new Owner App! By contacting us through the app we'll already have all the details about your issue, and we'll be able to help you out much quicker.
Everything is unified in terms of communications. You can see all your inquiries on the account page. Even if you send us an email it will be synced with what you see in the Owner App.
Joel Pinkham, :Different Product Manager
We think you'll love the changes. Aside from the new fresh design, it should give you peace of mind always knowing what's going on with your property and should help you feel in control when you need to dig deeper for information.
Together with our new Tenant App, the Owner App is now available to download for iOS and Android!
Disclaimer: The information provided on this blog is for general informational purposes only. All information is provided in good faith; however, we do not account for specific situations, facts or circumstances. As such, we make no representation or warranty of any kind whatsoever, express or implied, regarding the accuracy, adequacy, validity, reliability, availability or completeness of any information presented.
This blog may also contain links to other sites or content belonging to or originating from third parties. We do not investigate or monitor such external links for accuracy, adequacy, validity, reliability, availability or completeness, and therefore, we shall not be liable and/or held responsible for any information contained therein.