Our Tenant App underwent some renovation and is getting cleaner, faster, and smarter. It's the post-lockdown glow-up you were hoping for!
Here at :Different, tenant happiness is just as important to us as owner happiness. So when we found out that 54% of tenants surveyed rate the Tenant App at 3 stars or lower, we knew we had work to do.
When we launched the first version of our Tenant App in 2017 it was mostly to get the necessary processes up and running. Since then, we've learned a lot about how our tenants use the app and about how we can make the experience better.
It was very much just to get the business up and running back then. With what we've learned, we were able to spend more time on the details and get the experience just right for our tenants.
Anojan Sivaranjan, :Different Product Designer
In September last year, our team decided to create the new Tenant App from scratch, building on the learnings from our previous app and on feedback from tenants. This gave us the flexibility we needed to tailor it to the way we know tenants want to use it.
The goal: To keep the logic that was working smoothly with the old app, but create an overall seamless experience that has the answers for you when you need them.
The individual components of the old app were smooth, but what was missing was that holistically delightful experience.
Anojan Sivaranjan, :Different Product Designer
Today we're sharing the result of the hard work that we've done behind the scenes. The new Tenant App gives you control, ease of mind, and works with you, not against you.
1. Everything that needs your attention at an eye's glance
The first thing you'll see when you log in to your new Tenant App is your homepage, which has been redesigned to answer your questions before you ask them.
In our recent survey, 14% of tenants shared that 'lack of notifications' was an issue that stuck out. We also know that tenants mostly care about 2 main things: if their rent is being paid on time, and if their maintenance requests are being solved.
We want you to rest easy knowing those 2 things are coming along as they should. So now, your homepage will always tell you if there's anything you need to do.
Here's how it works:
⭐ NEW! If you have rent coming up in a few days we'll give you a heads-up. If we need more information about a maintenance request we'll let you know. If everything is A-OK we'll also tell you!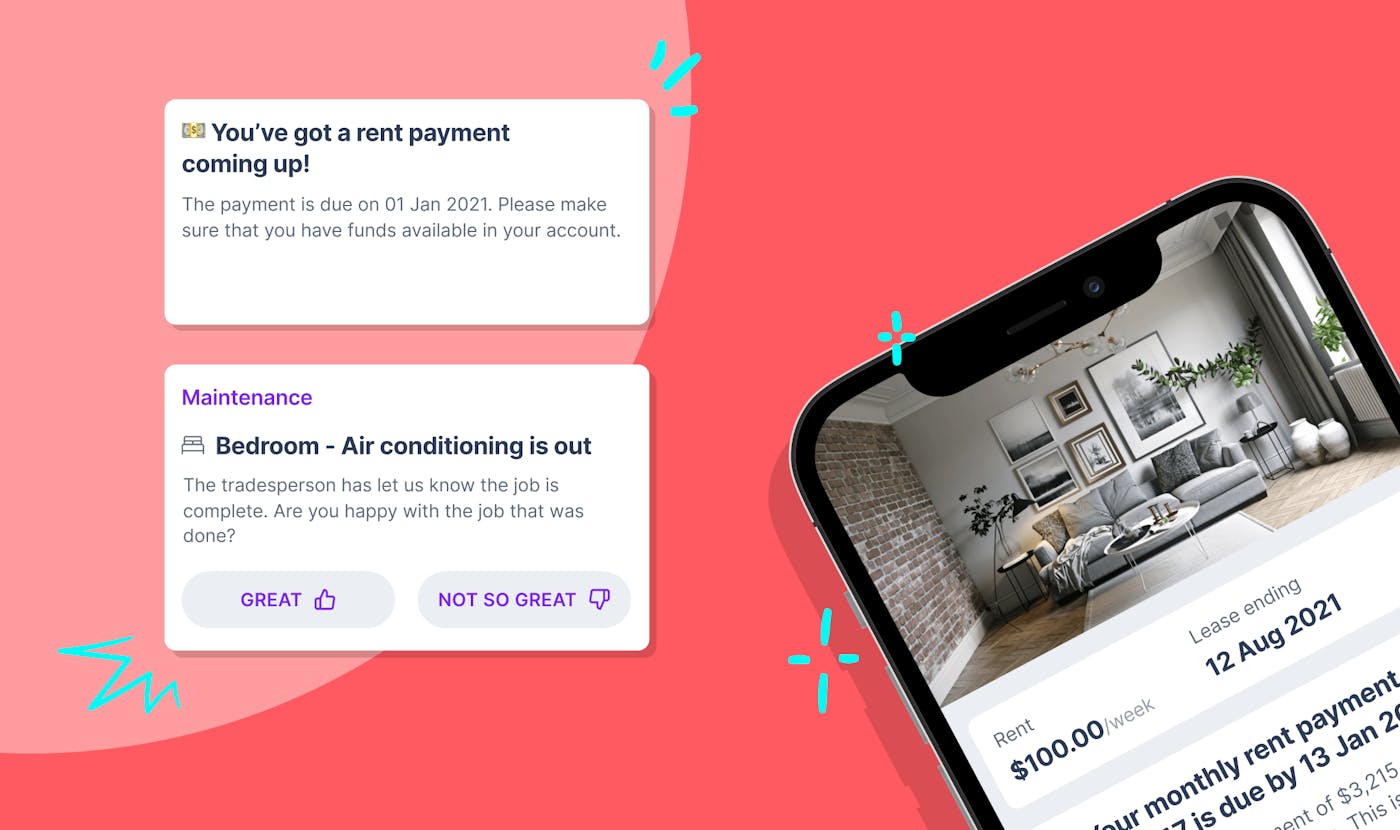 A quick check on your homepage is now your sign to kick your feet up.
2. Get down to the nitty-gritty of your payments
If you've used our old Tenant App then your new payments tab should look familiar, but we've taken your feedback onboard and made some changes.
Today, our payments tab doesn't just reflect the details of past rental payments - we've rebuilt it so that you can now also view the details and invoices around any miscellaneous payments (think water usage, maintenance fees, and so on), directly within your app.
⭐ NEW! You can now see all your past payments and their details on your payments page without having to download a statement. We also display any miscellaneous payments like your water bill or lease break fee. By tapping any of your payments you'll see whether it's pending or if it has been approved.
The payments tab should be the tenants' one-stop-shop for all things rent. These changes should help give tenants the answers they need without having to reach out to us, and make them feel more in control.
Anojan Sivaranjan, :Different Product Designer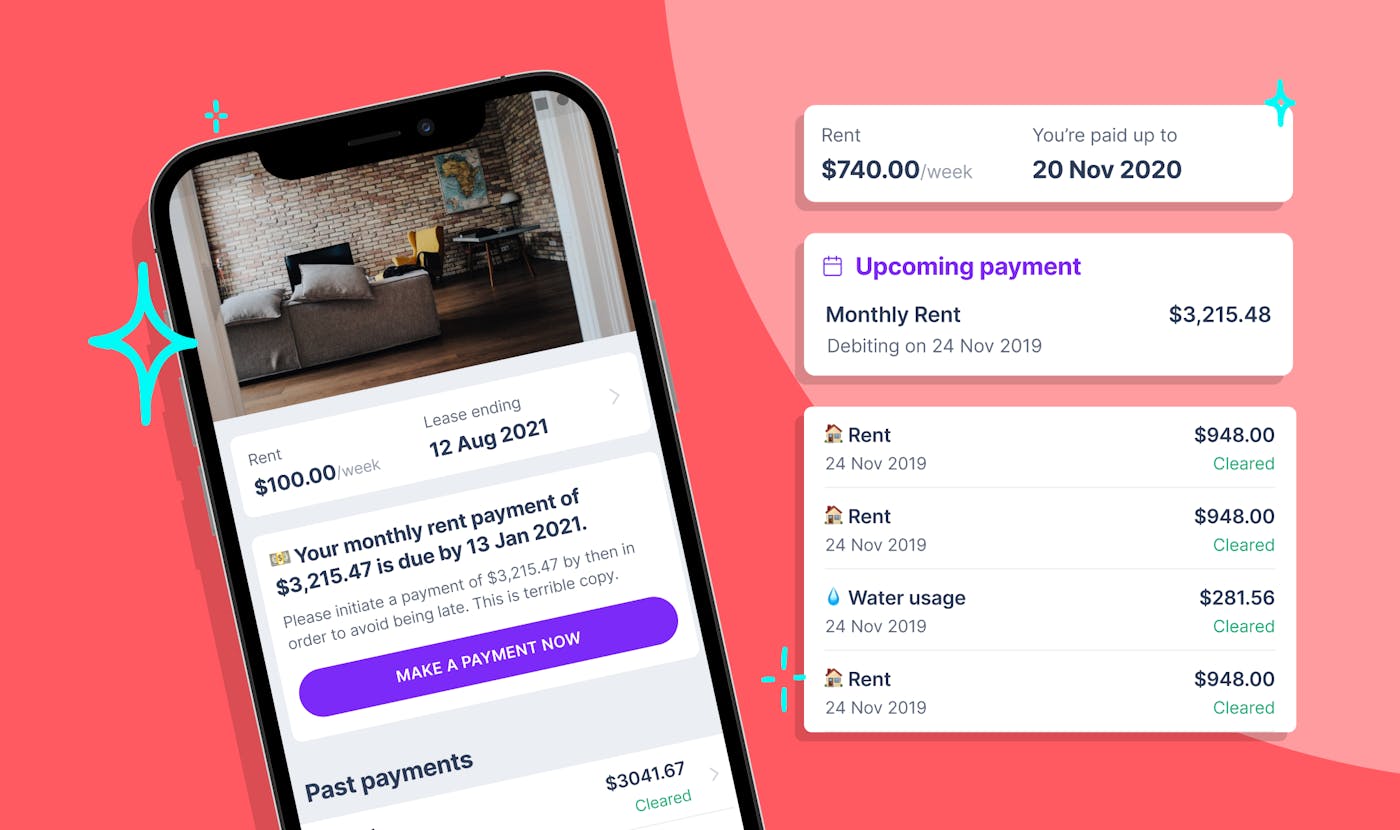 3. Always know what's going on with your maintenance requests
Our conversations with tenants revealed that tracking your maintenance requests felt harder than it should've been and that many felt out of the loop. In fact, 34% of our tenants mentioned 'maintenance' as a source of frustration.
That's why our goal with the new maintenance page was to always provide the answer to the question "what is going on with my maintenance request?" with little to no effort.
The flow of making maintenance requests stays the same, but tenants want to know the status of their repairs and issues afterward as well. That's why live updates are a core part of how we redesigned the maintenance page.
Anojan Sivaranjan, :Different Product Designer
⭐ NEW! Live updates on your maintenance requests. Tenants can now see if their request is open, if we're waiting for the owner's approval, or if it has been assigned to a tradie. If you click on a maintenance request you'll always find a little extra status update about what's going on.
⭐ NEW! Forward extra documentation to your existing maintenance requests easily through the app, without having to send it separately through email.
⭐ NEW! Urgent, out-of-hours maintenance requests. When a burst water pipe is flooding your bathroom on a Saturday night you can't wait until Monday! Read our urgent maintenance requests product update to see how it works.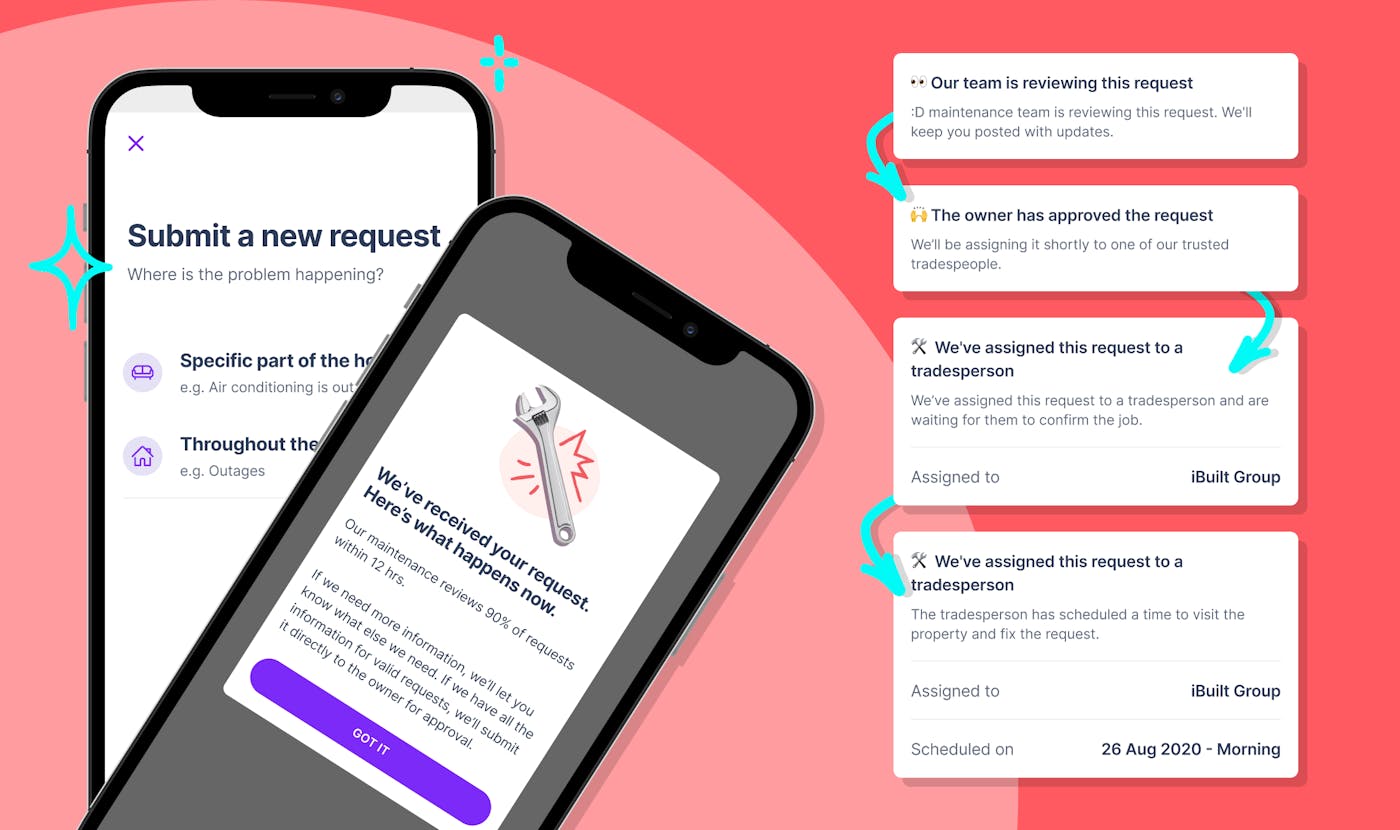 After these changes, you'll always know what's going on with your maintenance and what will happen next.
4. Never explain the same thing twice again
Gone are the days when you'd make an enquiry with a member of our team only to have to explain your issue once again. 
In the new Tenant App, that won't be a thing any longer.
⭐ NEW! You can now contact us about any issue directly when you've clicked on a payment or maintenance request, and we'll know what you're talking about. Simply click the 'send us a message' button while you're viewing a card, and we'll already have all the details! You can see examples in the screengrabs earlier in this article.
What happens on the back-end is that the details of your inquiry, the rental you live in, and so on, will automatically be filled out on the :Different team member's side when you contact us about a payment or maintenance request. The tenant can just go ahead and ask their question straight away.
Anojan Sivaranjan, :Different Product Designer
Of course, the things you already like about the Tenant App aren't going anywhere.
Pay your rent with ease
Quickly log maintenance issues
Access your documents on the go
Disclaimer: The views, information, or opinions expressed in this blog post are for general information purposes only and should not be relied upon. We have not taken into account specific situations, facts or circumstances, and no part of this blog post constitutes personal financial, legal, or tax advice to you. You should seek tax advice from your accountant, specific to your situation.