Partnerships are about mutual success. We work together with our partners to achieve our goals. From strategic design through to optimised operations and customer success. But that's just industry talk, partnerships are more than deals and workflows. At :Different we believe in creating simple yet delightful experiences for our owners and tenants, which help them win back time in the day and release them from one less worry in their lives.
Partnerships are relationships created on a mutual mission to have happy customers, who love us and recommend us to their friends.
Taylor, Partnerships Manager at :Different
Here at :Different, we combine innovative technology solutions with an experienced, understanding team to deliver the best experience possible for our owners and tenants. To date, we have achieved this through the launch of our Owner App and Tenant App - allowing us to stay proactive and timely, giving our owners time back in their day for the things that matter. 
With this in mind, here's how we have updated our service offering to elevate the customer experience, by adding another layer of support to our owners and creating more opportunities for our partners to flourish. 
Every :Different owner (and their tenants) will now be paired with a dedicated Property Partner. They're a personal point of contact, ready to offer advice and assist in the tricky moments that inevitably come up.
We're :Different for a reason! Here's how we deliver a consistently proactive service and ensure our customers feel informed & in control.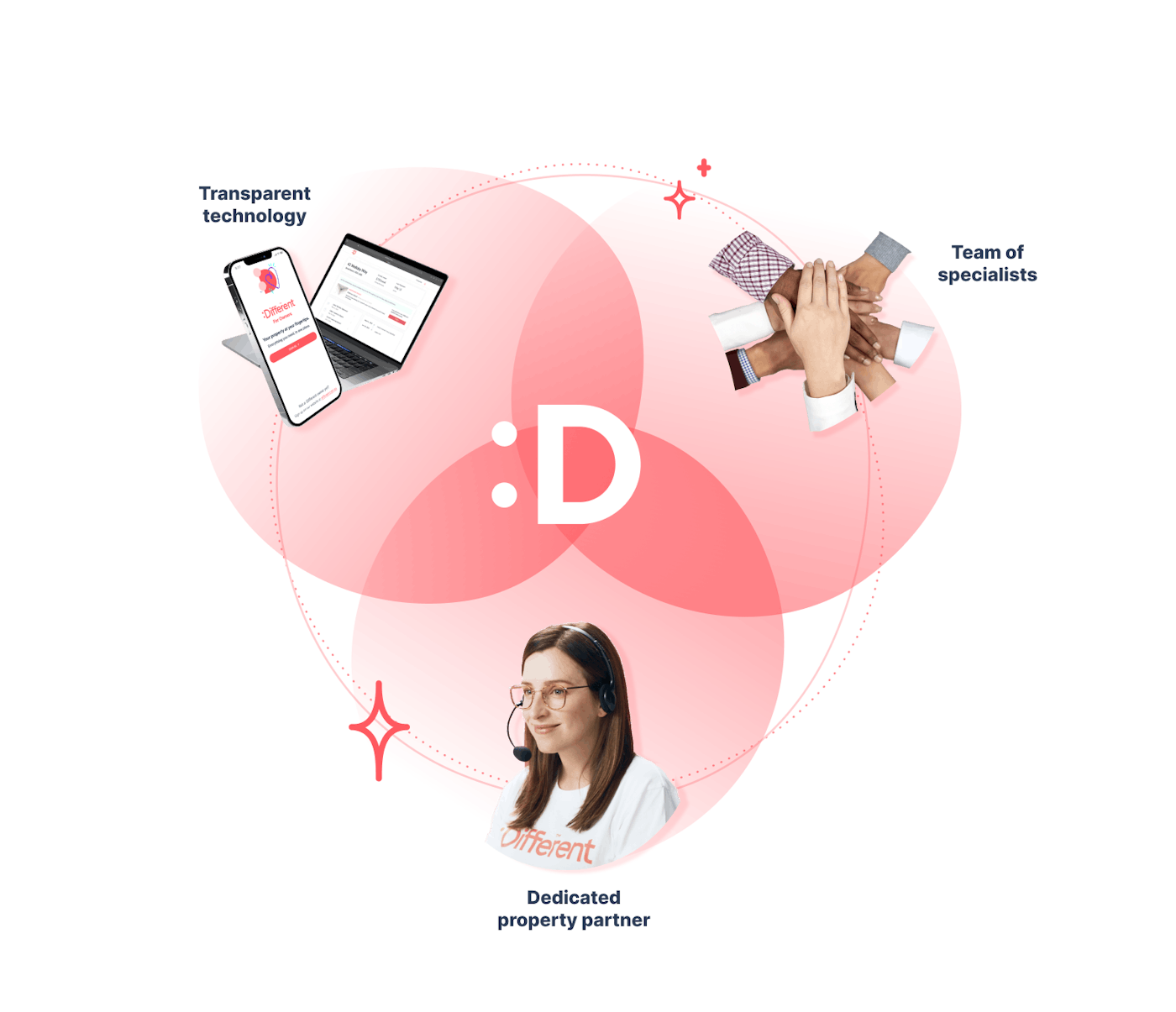 Our new service offering blend
| | | |
| --- | --- | --- |
| Our Owner App is the first point of call to get access to information and make fast decisions, eliminating the need for phone calls or emails by 70% | Our team of experts provide consistent, specialised support for specific moments such as Compliance, Leasing and Maintenance | Property Partner are always there to support our customers whenever they need knowledgeable, trusted advice |
But what does this mean for you, our Partners?
Best in class property experiences
Our partners trust us to deliver industry-leading experiences, and our new multi-layered service model consisting of our Owner App, team of specialists & Property Partners, magnifies the value proposition we bring to our owners and tenants.

Through this proactive approach, we can design bespoke customer experiences for partners who wish to integrate an industry-leading property management solution into their investor client journey. With a human touch, our tech-first experience is enhanced, elevated and complimented.
Here at :Different, we recognise the importance of a thriving channel for scale, and this elevated service is the foundation for that very lever of success. We are looking for partners to be part of that journey with us, to see investors and tenants alike, finding delight from their property manager.
Taylor, Partnerships Manager at :Different
At :Different, we understand that we cannot sustain the relationships we build without trust, whether with our owners and tenants or with our partners. Our new service offering adds more confidence to our name. Our real-time reporting and smart-tech apps are examples of how our tech enables transparency, whereas our team of specialists offer expert advice and tackle a range of problems our owners face. And now, with a property partner, our partners can gain an insight into the real truth of a customers' experience with us - a human touch to our tech-enabled transparency.
A heightened understanding of an investment property owner
At :Different, everything we do is born out of research; from our new service model to our next app update, we know the importance of understanding our customers (and their pain points) and help release them from the stresses of owning an investment property. 
Our new approach places our service offerings along the customer journey. Starting with our Owner & Tenant Apps, which helps our customers better track their home and tenancy situation, followed by our team of specialists who guide our owners through various transitions and processes. And finally, our Property Partners, who assist our customers through tricky and challenging situations, lending them an ear and helpful advice when they need it the most. 
Through a blend of our smart-tech platform, team of property experts and a dedicated property partner, we can gain insights into our customers wants, needs and struggles, insights, which we can offer you, our partners, as well. 
The start of something :Different
At :Different we believe in keeping our customers informed and in control. Whether they are owners, tenants or partners, we want to create the right property experience for them, so that they can focus on the things that matter. It has been four years since we first began our journey, and while many things may have changed, this belief has guided us all along, with our customers and our partners.
Scaling partnerships for success means keeping our customer, both ours and those of our partners, front of mind. Our new service model elevates the partnership experience by bringing increased value to the customer experience.
Taylor, Partnerships Manager at :Different
Through our new service offering, we can better assist you with more potent information and insights into an investors journey and offer you the opportunity to serve your audiences in a more meaningful way, strengthening your position in the marketplace.
Like what you just read? Well, there's a lot more where that came from
Subscribe to our FREE monthly newsletter for the best property content on the internet!
Disclaimer: The information provided on this blog is for general informational purposes only. All information is provided in good faith; however, we do not account for specific situations, facts or circumstances. As such, we make no representation or warranty of any kind whatsoever, express or implied, regarding the accuracy, adequacy, validity, reliability, availability or completeness of any information presented.
This blog may also contain links to other sites or content belonging to or originating from third parties. We do not investigate or monitor such external links for accuracy, adequacy, validity, reliability, availability or completeness, and therefore, we shall not be liable and/or held responsible for any information contained therein.