If property compliance has ever got you feeling like 🤯❓😖 - you're definitely not alone.
While compliance should be high on every investment property owner's priority list (especially since it ensures tenant safety and protects you from risk), it often gets pushed down the line - and with good reason!
What we learnt from our owners is that there was just too much information to wrap their heads around, and they simply didn't have the time, or the right tools to understand it. 
But considering just how important compliance is, it shouldn't be so difficult!
That's why, we've set out to solve this problem by making compliance so easy that anyone would be able to understand and stay updated. 
Introducing compliance in your Owner App
Now you can kick back and relax, with everything you need to know about your property's compliance visible in a single space – right in your Owner App! 
Stay organised and in control with visible status updates of all the compliance items that are relevant to your property.
But that's not all – we've also designed this feature to help you:
Know exactly what your compliance responsibilities are (and what certificates apply to your property) 
Easily keep track of how each compliance item is being managed 
Rest assured knowing that you and your property are legally compliant
Say hello to peace of mind - with minimum effort on your end!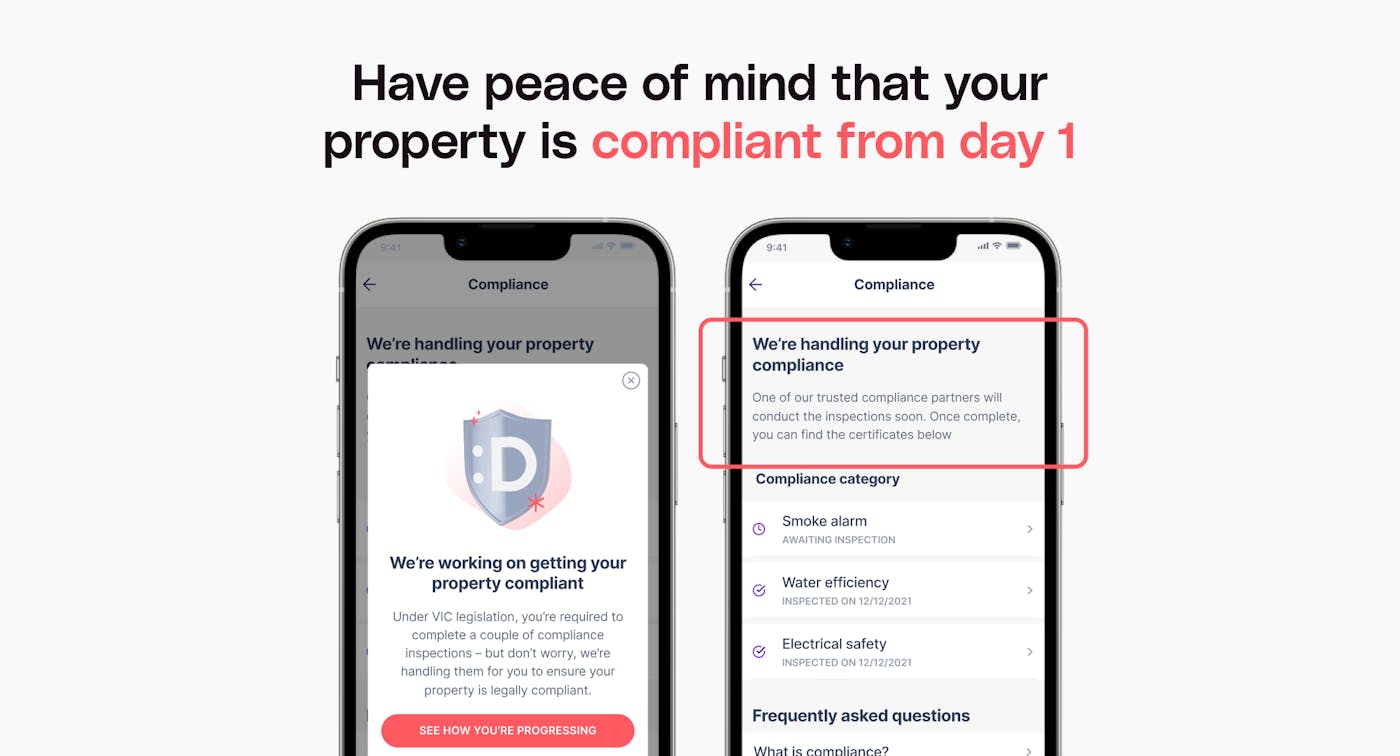 1. Rest assured that your property is compliant from day 1
The first thing you want to do as an investment property owner is protect yourself from risk - in this case, unpleasant trips to the courtroom.
That's why new owners are automatically opted into our compliance package by default. 
Our expert compliance team have a comprehensive understanding of legislative requirements, so rest easy knowing that they're organising all the necessary checks to help ensure your property is safe for tenants to live in. 
💡 What are the required checks and how often do they need to happen? Check out the table below. 
QLD requirements
30 days before each new tenancy (including lease renewals)

✅

*if you're charging your tenants for water usage
NSW requirements
Every year and before each new tenancy

✅

*if you're charging your tenants for water usage
VIC requirements
Every year and  before each new tenancy

✅

*if you have gas appliances
You can choose to opt out if that's what works better for you – this means that you'll need to:
Sign a waiver
Organise regular compliance checks (as often as required by legislation)
Continually upload the most up-to-date certificates to your app
💡 If you're not confident that you have the time or memory to keep up with the requirements, our recommendation is to stay opted in.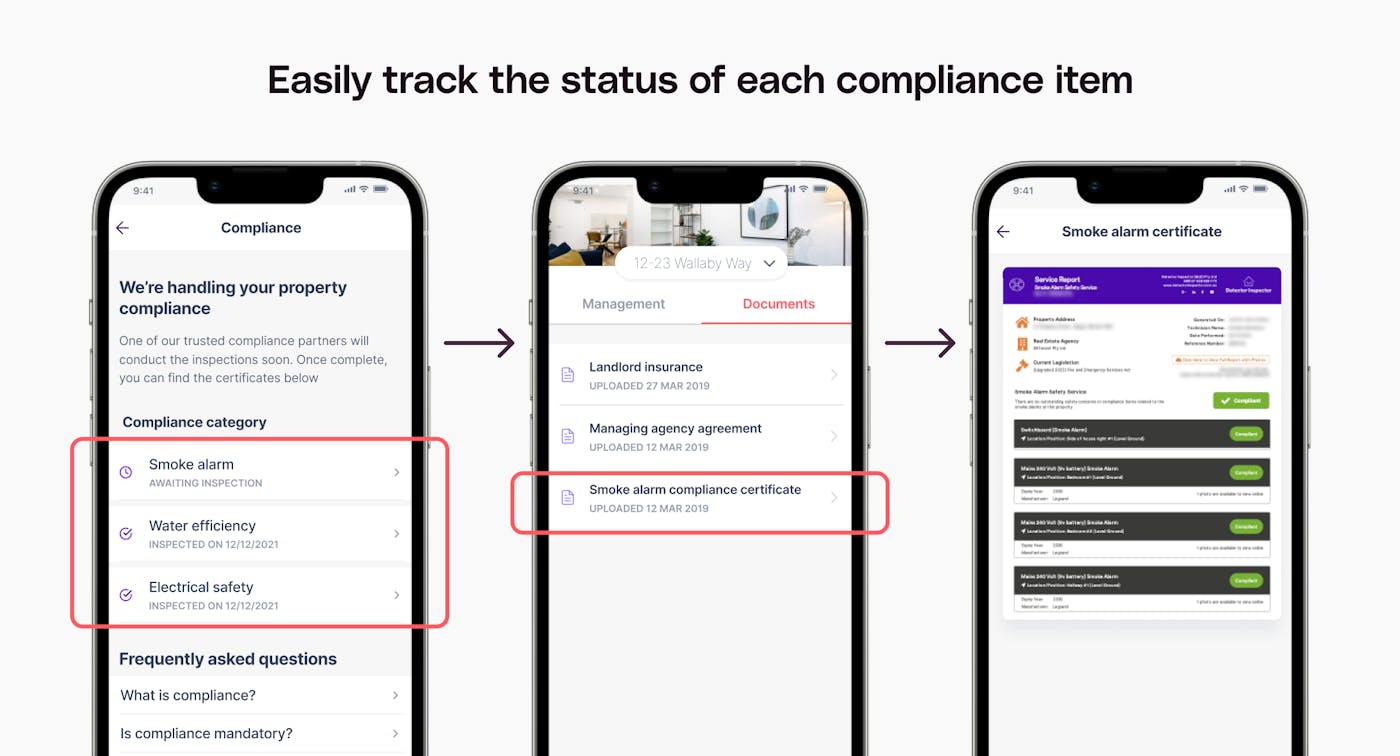 2. Easily track the status of each compliance item
Track the status of your compliance items from when they're awaiting inspection, to when they've been completed - all from a single screen within your Owner App! 
Here's a rundown of the different statuses and what they mean: 
🔍 Awaiting inspection: We're arranging an inspection to get a compliance certificate for this item. 
🔍 Inspected on [date]: You're compliant for this item! 
For compliance certificates that expire after a certain amount of time, you'll notice the status automatically changes back to "awaiting inspection" when the expiry date is approaching. When the time comes, we'll organise another inspection to make sure you're always covered. 
📄 Tip: Once the inspection has been completed, you'll be able to find the certificate in the documents tab (Management > Documents) in your app.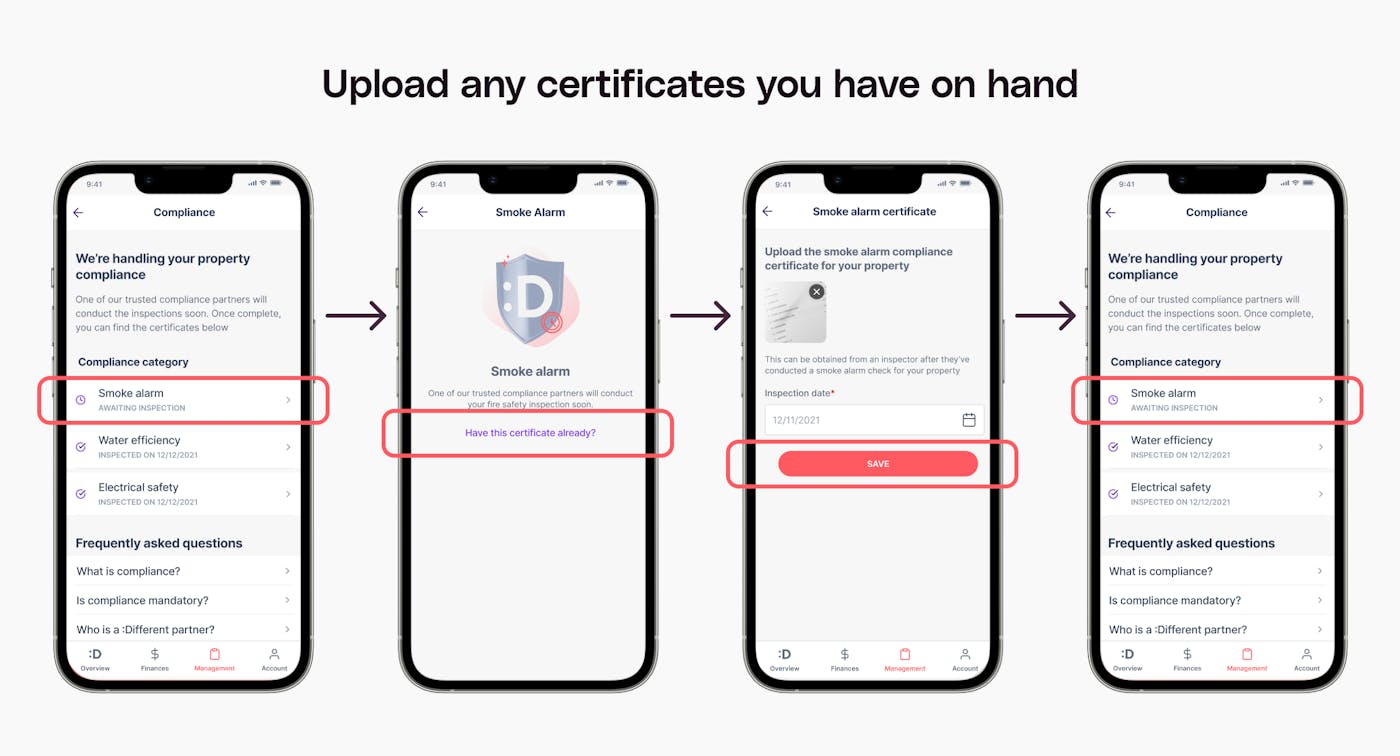 3. Already have the compliance docs on hand?
Say we're managing your compliance, but you already have a valid smoke alarm certificate from your previous property manager - no problem! You can easily upload the certificate you have to your Owner App 📤
If the certificate has an expiry date, we'll handle the inspections following that date.
💡 Make sure you upload the certificate within the first 7 days of us taking over the management of your property, as we'll start organising the inspections with our compliance partners by day 8.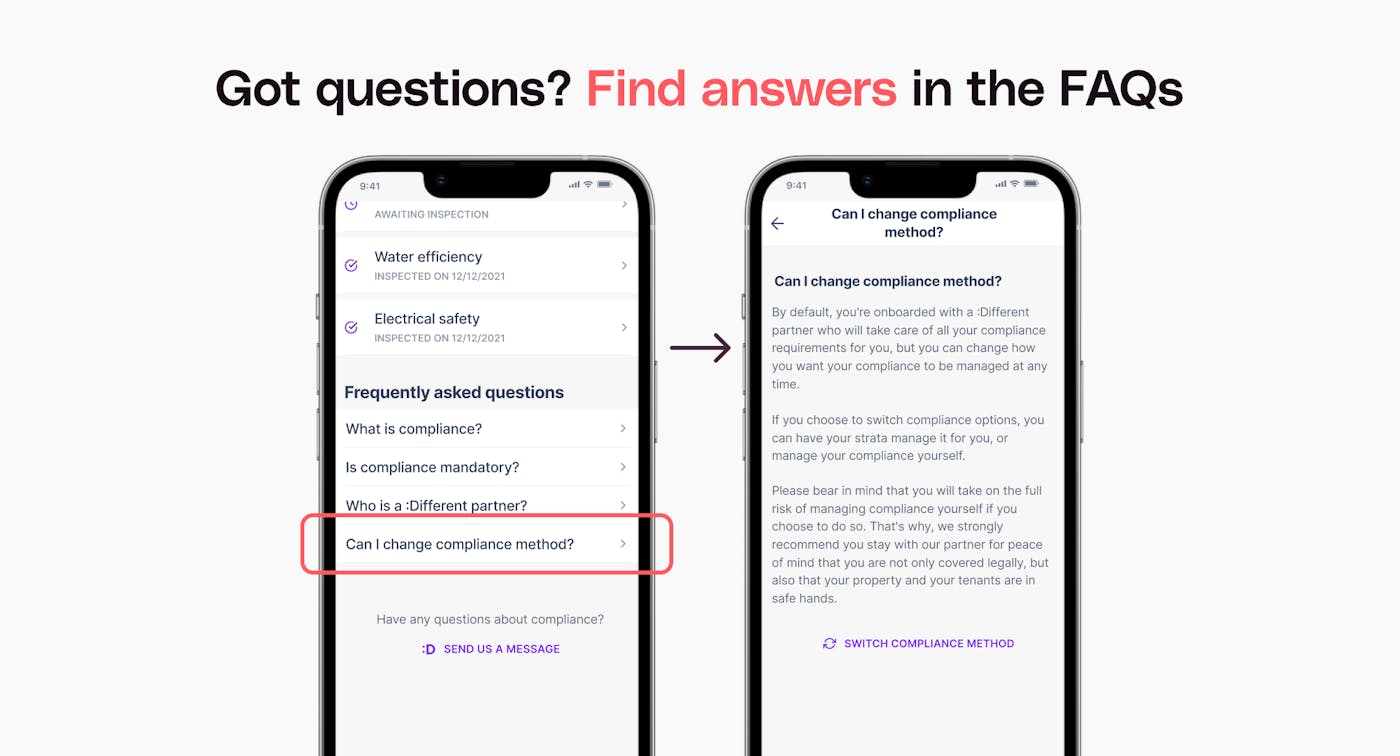 4. Compliance FAQs in your Owner App
If you ever have any questions about compliance, the answers are just a couple of taps away – FAQs are located towards the bottom of the compliance section in your app. 
Can't find the answer you're looking for? Send us a message by tapping the button at the bottom of your compliance screen, and we'll get back to you ASAP. 
When it comes to having peace of mind that you're legally covered (with as little effort from your end as possible), having us manage all your compliance for you is a no-brainer. Not only are you able to keep track of your compliance status in a single place in your Owner App, but you'll also stay organised and in control, knowing exactly what your compliance responsibilities are, how each item is being managed, and that you and your property are legally compliant.