Routine inspections are an important part of property maintenance and staying on top of your investment - it's why they exist!

Not only do they give you the opportunity to check in with your tenants and identify any potential issues, but your inspection report will also cover you if you ever need evidence in a dispute. 
During a routine inspection, we check in to see how your tenants are maintaining the home, and look out for any maintenance issues that we can nip in the bud before they snowball into bigger, more expensive problems.
If you're a busy property owner, keeping up with routine inspections can eat into a lot of time (and also be pretty tedious!). This new update to your Different Owner app is going to help you make it easy to stay on top of how your property is doing.
It's now easier than ever to stay on top of your routine inspections
The new inspections feature on your Different Owner app keeps you updated with timely communications and easy access to your inspections information. Stay in control of your investment, rest assured that your property is being taken care of, and that your tenants are happy!
Introducing routine inspections in your Different Owner app
Your app now features a single place for you to view information and updates on your routine inspections. Stay informed and in control of what's going on with your property, whether it's: 
Details about your next inspection 
What we're doing to fix issues 
Access to historic inspection reports
You'll have the confidence to carry on with your day knowing that your property is in tip-top shape.
1. Know when to expect your next routine inspection 
When a routine inspection has been scheduled for your property, your app will notify you with the details. In your Different Owner app you'll be able to see the: 
Dates of your inspection
Inspector name
You will also be notified of any change in plan via a push notification. If the inspection needs to be rescheduled or cancelled, you'll always stay informed.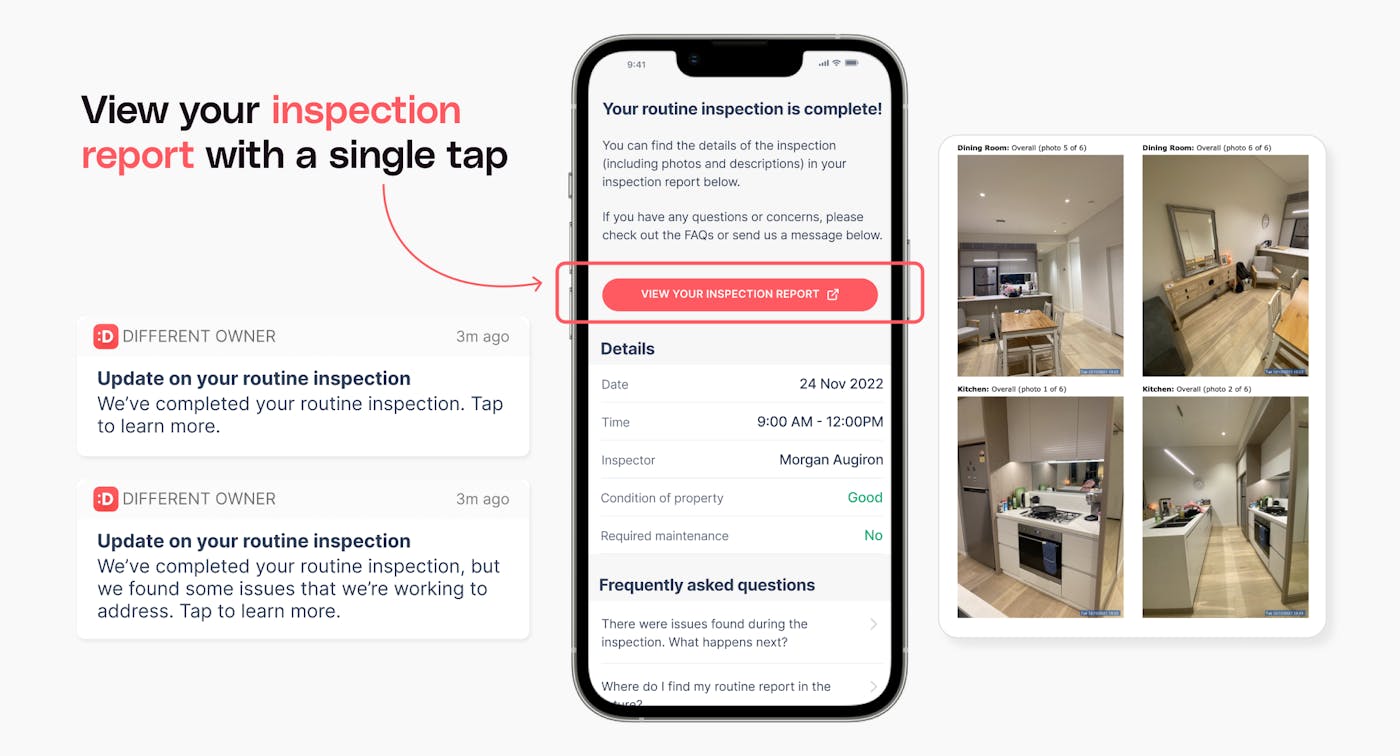 2. View your inspection report with a single tap
Once the inspection has been completed and reviewed, you'll be notified to take a look in your Different Owner app to see how it went. In addition to the details that you would have seen when the inspection was scheduled, you'll also be able to see: 
Condition: Good, average, or poor 
Maintenance required: Yes or no
Need more details? With one tap you can now see the full inspection report, including photos and descriptions of each part of your property. 
3. Know how issues are being followed up
If any issues are found during the inspection, your Property Partner will work with your tenant to address the problem and keep you in the loop. 
Once the issues have been addressed, your Property Partner will ask your tenant to share photos so that you can see the result. For more serious problems, a follow-up inspection will be completed, and you will be kept updated throughout the process.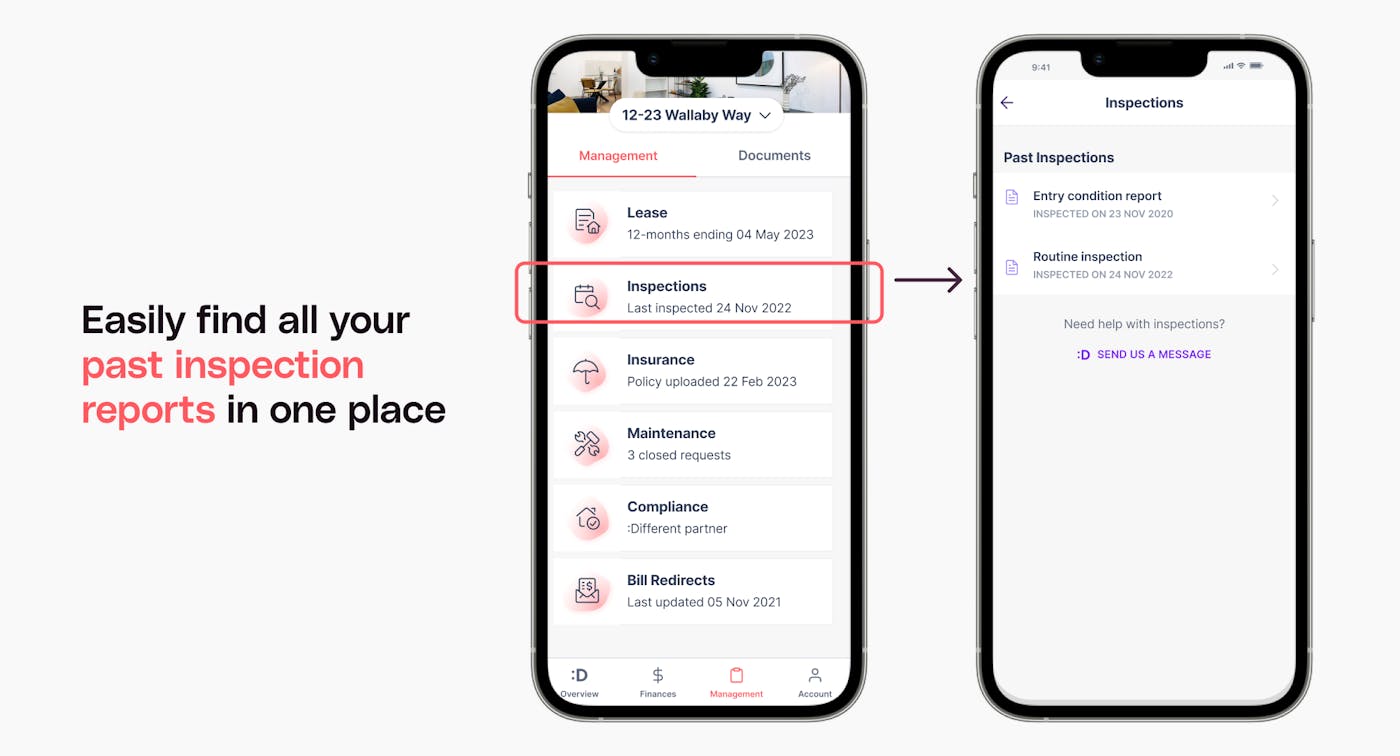 4. All your past inspection reports in one place
Once your routine inspection is all done and dusted, you'll be able to find the report (as well as all your past inspection reports) in a single place – simply navigate to Management > Inspections in your app. 
With everything documented and easily accessible, you can rest assured you're covered if you ever need to refer to them in a dispute.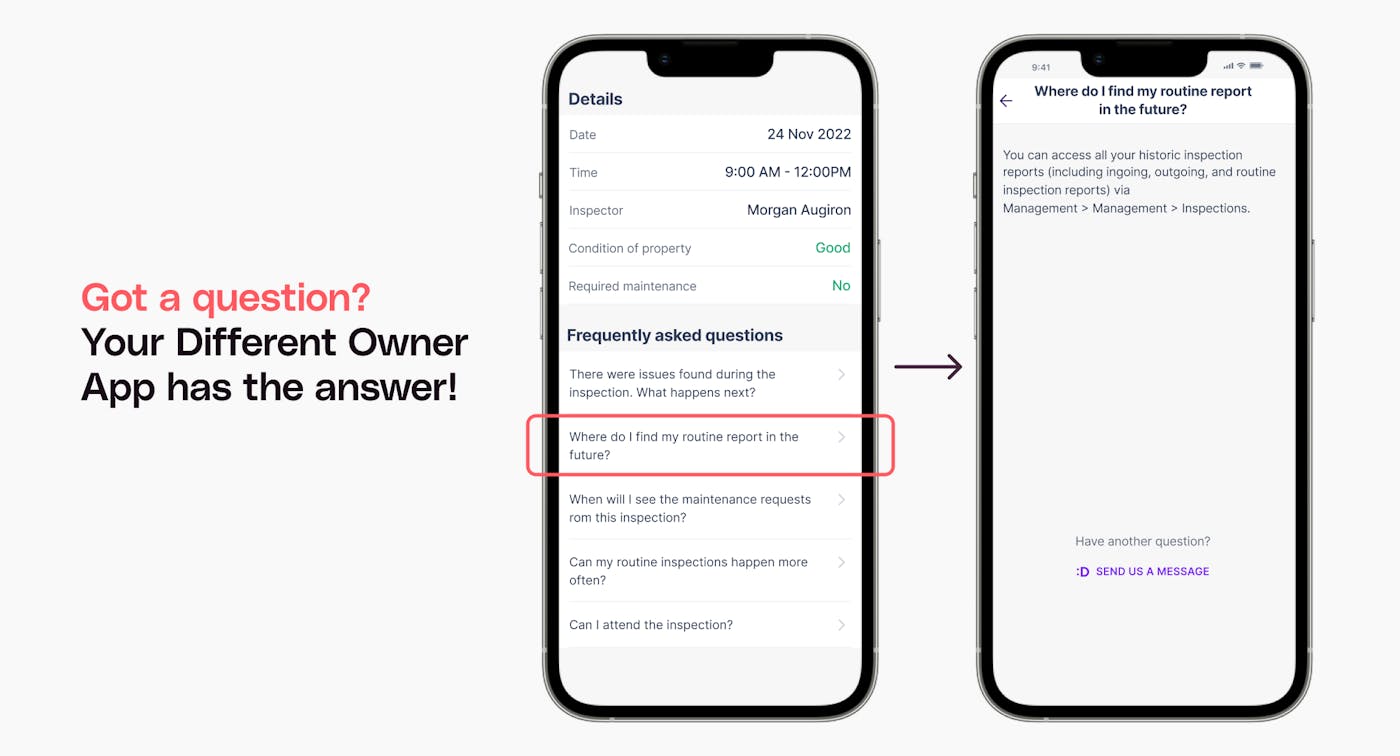 5. Got a question? Your Different Owner app has the answer! 
If you have any questions about routine or virtual inspections and how they work, your answers are just a couple of taps away.

FAQ's are located at the bottom of the routine inspections page in your app, and can be found by navigating to Management > Inspections > Routine inspection.  
If you can't find the answer you're looking for, simply send your Property Partner a message by tapping the button at the bottom of your routine inspections screen, and you'll get a response as soon as possible.