Reaffirming our mission of being your partner in the home
Today, we have taken one more step towards our mission of becoming the assistant for the home. As part of our Series B fundraising, we have successfully raised a fresh round of funding. The raise was led by CBA's x15ventures and Antler Global Fund, which will also see us form a strategic partnership with CBA to collaborate on exclusive offers and benefits to reach millions of homeowners across the country.

In 2017, our co-founders Ruwin and Mina set out to rebuild property management. At the time, the industry wasn't at the highest level of efficiency and wasn't using the technology, as it could have been used, to deliver transparency and efficient communication.  We recognised that there was (and still is) so much space for improvement in the property management industry, so that's exactly what we did.
Since 2017, we have been working hard to elevate the property management experience through our innovative tech solutions, team-based approach and dedicated Property Partners. 
In four years we have made great strides:
Successfully raising $7.8 million raised through our Series A funding round
Achieving a 45% faster result than the industry average when leasing your home
Releasing an Owner App for iOS & Android not to mention a Tenant App 2.0
Getting great reviews and feedback on our work on Google, currently at 4.1 stars (and rising!)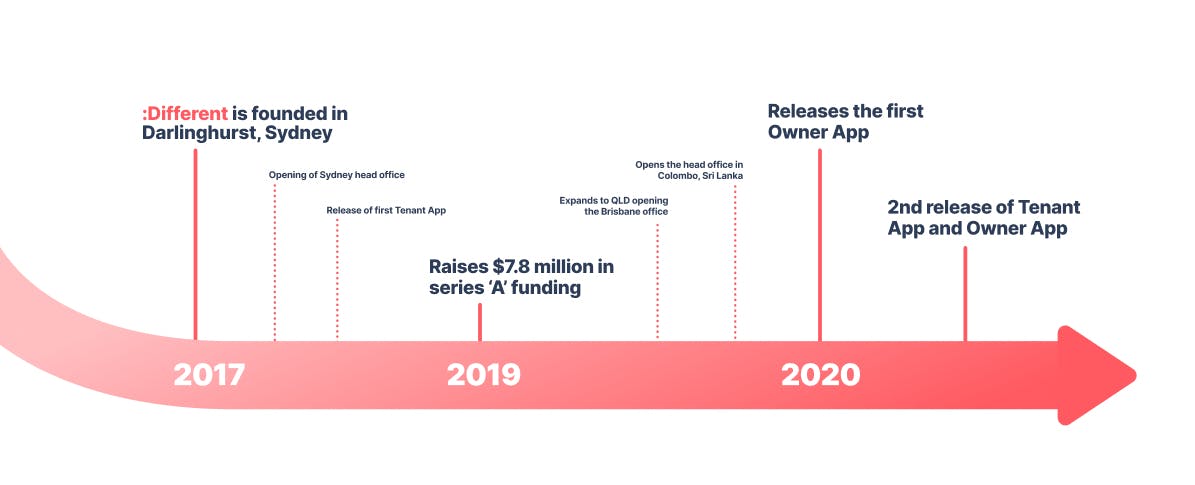 Here's how we'll continue to elevate your property management experience with :Different
This fresh round of funding will allow us to continue full steam ahead in our efforts to proactively understand and take care of your needs. We never settle because we know there is always room to improve your experience.
With that in mind, we are excited to share the four key initiatives on which we will be focusing our efforts.
1) An elevated experience through continued innovation in tech solutions

At :Different, we have a simple philosophy: let people do what they do best and let technology do the rest. That is, allow our tech to do the repetitive, mundane tasks so our expert team is freed up to do what they are best at: working closely with our owners and tenants on complex issues and providing true empathy and understanding.
To date, we have our Owner App which is the first point of call for :Different owners to get access to information and make fast decisions, which has eliminated the need for phone calls or emails by 70%. We've also built a Tenant App that allows tenants to manage their payments & maintenance requests. And behind the scenes, our proprietary system has taken the burden of manual (and menial) tasks off our property experts and allowed them to focus on providing the best possible experience for our owners. 
The benefits that tech brings to property management are endless – and going forward, you can expect to see a lot more improvements to our technology and processes, to help you stay informed and in control of what's happening with your property.
2) Improved knowledge through investment in growing our expert team

Taking care of your home and those who live in them takes more than just a handful of people - it takes a team of dedicated, customer-obsessed individuals who want nothing but the best for you and your home. By bringing in the most talented individuals from property management, as well as other relevant fields such as finance, marketing, operations, and engineering, we can find solutions to the problems that investment homeowners such as yourself face.

By growing our team with the right people who are passionate about property management and great customer experiences, we can give you the support you need at the moment you need it. Whether it be maintenance, leasing, compliance, finance, or anything else, our dedicated experts will be there to help you navigate through it and set you up for success.
"We are thrilled to have x15ventures and Antler backing us. Antler's international presence will give us the reach to take :Different to other markets around the world. Both partners have a vision to disrupt the status quo to solve real-world problems in unique ways, which is at the very core of why we started :Different, and makes them a perfect pairing for us."
Ruwin Perera, Co-founder of :Different
3) Reaching more homes through geographic expansion

We believe that every single investment property owner should be getting the consistent, reliable service they deserve.  Regardless of if you have an investment property in the middle of Sydney or outback WA, property management should be a simple, reliable and enjoyable experience. 
With the support and backing from  x15 Ventures and Antler, we will be able to go where we have not gone before, reach more homes and more people, and help more Aussie owners find time in their lives for the things that matter most.
4) Bringing new, reimagined products to market with our partners

At :Different, we're all about being proactive – we're always listening to your feedback to understand how we can better help take care of your needs.  
Here are some examples:
Our EOFY pack (aka everything you need to do your taxes) was built after 78% of our owners told us that admin/compiling data was what gave them the biggest headache during tax time. 
We introduced maintenance cost estimates based on historical data when 25% of owners we surveyed said that "lack of transparency with regards to repairs and maintenance" was their biggest concern when it came to maintenance. 
And of course, we introduced our Property Partners in response to our owners' feedback that sometimes, in tricky situations, they just need to talk to someone who will follow through with the issue for them, from beginning to end.
Being proactive is central to how we help investment property owners get time back for the things that matter. Going forward, we'll be doing the same: understanding the frustrations that you experience as a property investor, and building the products and services that will solve those problems. Through this Series B fundraise, we will be able to bring you new services and products with you in mind and solve the problems that you face, now and in the future.
Our purpose at :Different is to take care of homes and the people in them. To do that, there's always one important thing that we keep in mind: you.

From our tech innovations to maintenance work to even replying to your emails, whatever we do, it's with you in mind. This fundraise will support us to continue doing what we always have, and build a simple, reliable, and enjoyable property management experience so that you can focus on the things that matter.
"Our ultimate mission is to be the all-encompassing assistant to the home, and this latest raise and our partnership with CBA and Antler brings us another step closer to reaching this goal and helping even more Aussies."
Mina Radhakrishnan, Co-Founder of :Different.
Disclaimer: The information provided on this blog is for general informational purposes only. All information is provided in good faith; however, we do not account for specific situations, facts or circumstances. As such, we make no representation or warranty of any kind whatsoever, express or implied, regarding the accuracy, adequacy, validity, reliability, availability or completeness of any information presented.
This blog may also contain links to other sites or content belonging to or originating from third parties. We do not investigate or monitor such external links for accuracy, adequacy, validity, reliability, availability or completeness, and therefore, we shall not be liable and/or held responsible for any information contained therein.