The end of financial year is almost here and as a property owner, you might be worried about completing last-minute tax-deductible maintenance or improvements and making sure your records are updated.
There's no denying that preparing for tax time can be pretty inconvenient. Keeping track of expenses throughout the year and making sure everything is up-to-date before tax time can be a real headache.
Here at :Different, we make EOFY preparation seamless and stress-free for our property owners. In this article, we highlight how :Different streamlines the tax preparation process through our owner app and portal. 
Keeping you organised throughout the (financial) year
In preparation for End of Financial Year, you want to make sure all your records are up-to-date. As a result, property owners sometimes find themselves knee deep in paperwork, trying to find the right record to make sure it's updated. 
For property owners at :Different, finding records is not a problem because :Different's tech keeps owners' records organised all year. 
That means you don't have to spend any time digging through piles of paper or computer files to update them - pretty neat!
The :Different owner app keeps records of:
Records of bills
Receipts
Maintenance quotes and invoices
Detailed breakdown of income and expenses if you want to dig deeper
More than just an annual statement: say hello to the free :Different's EOFY package
At :Different, we're always looking for ways to make the customer experience better for owners. Because 78% of owners told us that their biggest pain point at tax time is admin/compiling data, we built an EOFY pack (aka everything you need to do your tax returns) for all of our owners.
The EOFY pack is something of a tax goodie bag packed with:
Your annual statement
A breakdown of income and expenses for that financial year
Invoices for that financial year
The pack downloads as a ZIP file, which means it's easy to manage and share.
While many property managers charge their clients for annual statements, at :Different we provide it as a complimentary service to our owners.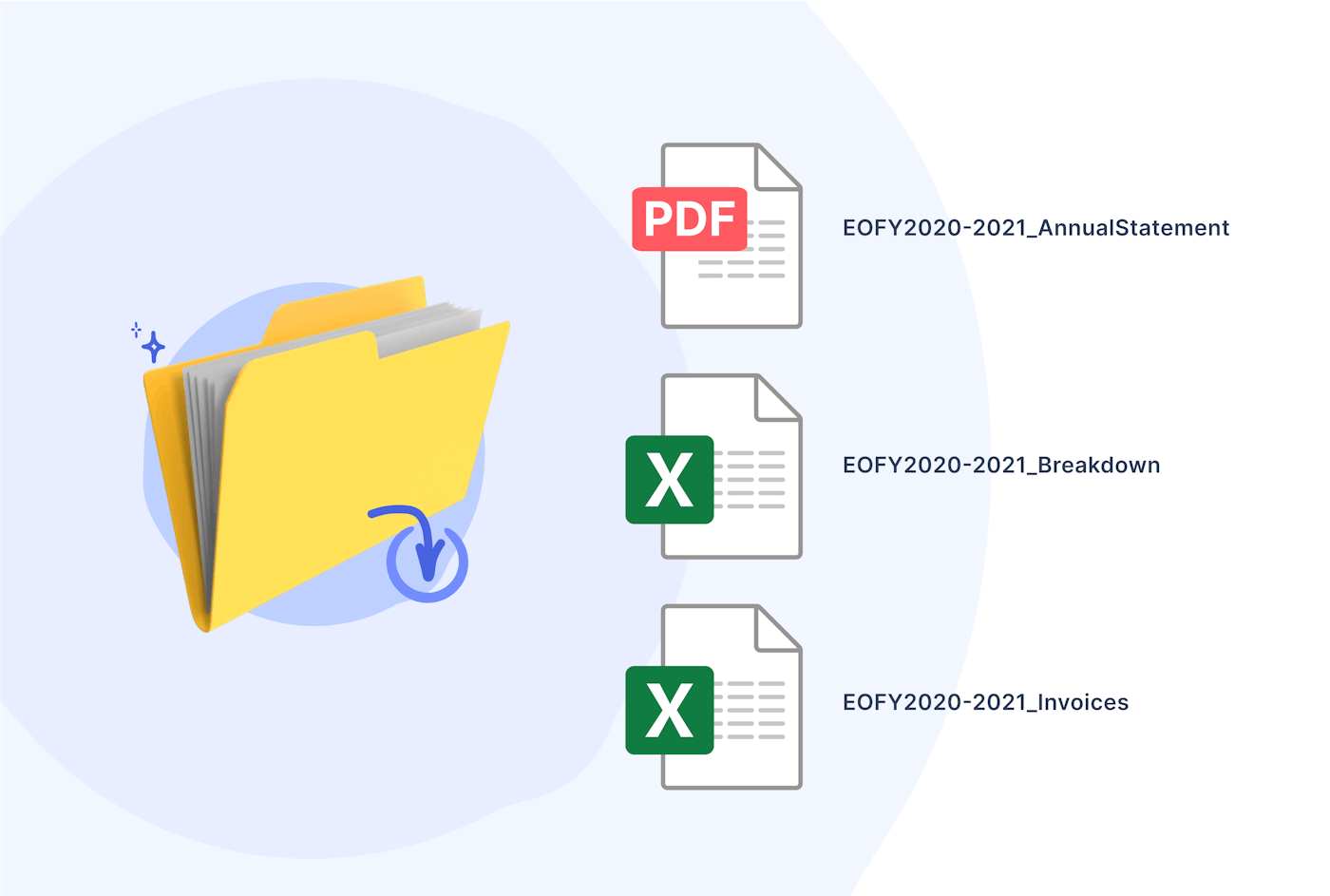 When can you access the EOFY pack?
Your owner records are lodged into our databases, which means that after July 1st, our finance and engineering teams can get to work packaging those numbers up into your EOFY pack. 
Our teams will usually carry out multiple checks to ensure all the data is correct. This process usually takes about 6 days. 
Once the packs are complete, each :Different owner receives an email notifying them their EOFY package is ready for download.
Downloading the EOFY pack
We have made accessing your EOFY pack more flexible and convenient. Once the EOFY pack is ready it will appear in your "Documents" tab on the app, and on your main dashboard in the portal.

Downloading the EOFY pack is just as simple, available to you on both your app or portal, making the tax preparation process more flexible for you.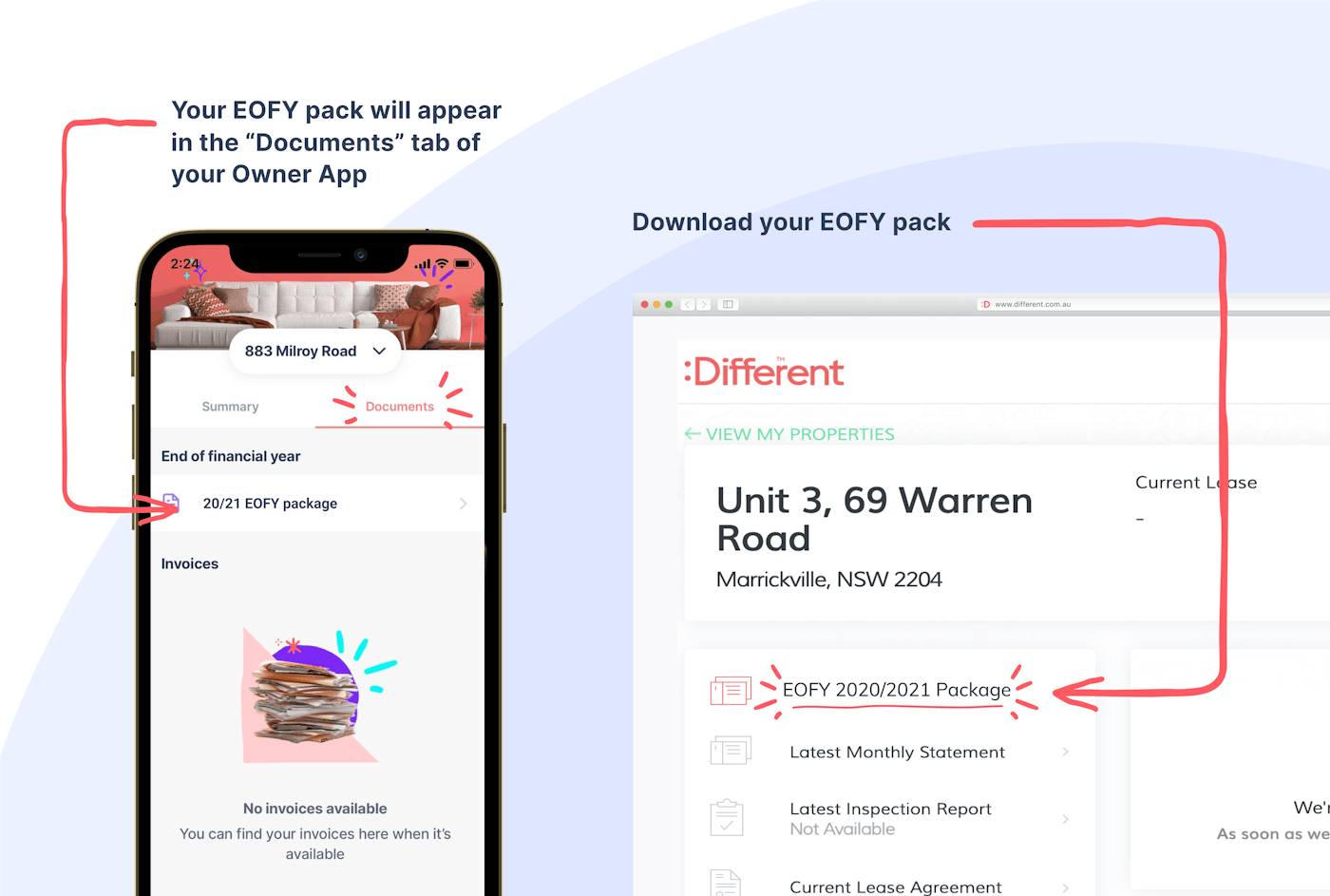 On your owner portal, click on the EOFY 2020/2021 Package icon and you will be directed to a page from where you can either download as a zip file or email it straight to your accountant.
To download the EOFY pack from your owner app
Click on your Finances tab at the bottom of the screen
Between Summary and Documents, click on Documents
Click on your 20/21 EOFY Package to download the ZIP file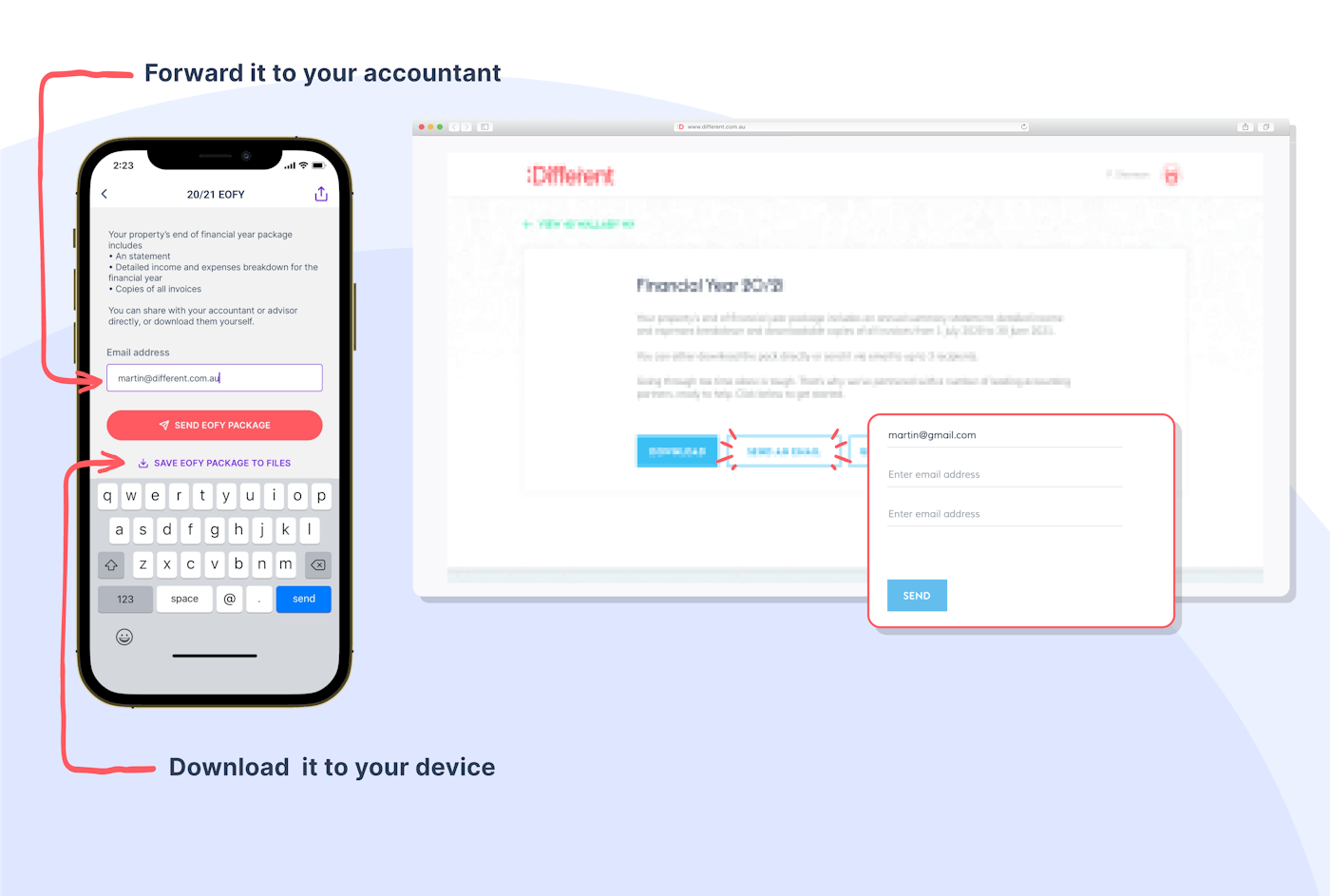 For 53% of owners who used our EOFY pack in 2019/2020, tax preparation was easier and less time consuming because all the important documents were in one place. 
With EOFY a couple of weeks away, :Different will be preparing the packs soon to ensure that tax preparations for our owners is smooth sailing.
If you want to learn more about tax time and how you can save on tax, have a read of these tips on how to do that.
Like what you just read? There's a lot more where that came from.
Subscribe to our FREE quarterly newsletter for the best property content on the internet!
Disclaimer: The information provided on this blog is for general informational purposes only. All information is provided in good faith; however, we do not account for specific situations, facts or circumstances. As such, we make no representation or warranty of any kind whatsoever, express or implied, regarding the accuracy, adequacy, validity, reliability, availability or completeness of any information presented.
This blog may also contain links to other sites or content belonging to or originating from third parties. We do not investigate or monitor such external links for accuracy, adequacy, validity, reliability, availability or completeness, and therefore, we shall not be liable and/or held responsible for any information contained therein.