Repairs and maintenance requests shouldn't need dozens of phone calls and emails to get sorted. As a tenant, you want to report issues and have them fixed without any headache or hassle.
We've created (and recently rebuilt) our dedicated New Tenant App to speed up the reporting and repair process for maintenance requests. In the app, you can submit a request whenever an issue crops up, and we can easily get it resolved (whether a tradesperson is needed or not).
Let's pretend that you have a broken sink, and we'll take a look at how this process works in action for you when lodging a maintenance request through :Different's Tenant App.
Step 1: You discover the sink in your rental is broken and report it via the :Different tenant app
A few months into your tenancy you notice the kitchen sink isn't working properly. You snap a few photos of the clogged sink and leaky pipes and upload them with a maintenance request on the maintenance page on your Tenant App.
To give us a clear idea of what's going on, you can add detailed written descriptions of the problem and lodge the request in minutes.
Step 2: Our team helps you troubleshoot the problem
Not all things that need fixing require a tradie, so it's always good news when something can be sorted on the spot.
Before passing on your maintenance request, our Tenant App will take you through some steps and questions to help you get your problem fixed instantly if possible.
For example, we would ask if you've tried putting some baking soda and pouring boiling water down the drain. If it works, great! If it doesn't, we'll approve the request and notify your landlord via their Owner App.
This way, you get a potential quick-fix and don't have to wait a week for a tradie, and your landlord knows that only legitimate requests are coming through.
Plus, we recently introduced urgent, after-hours maintenance requests. That means, if your request is an urgent one or an emergency and it's after-hours, we'll give you a number to call straight away. After all, when you've got 2 inches of water in your bathroom and it's not stopping, it can't wait until Monday!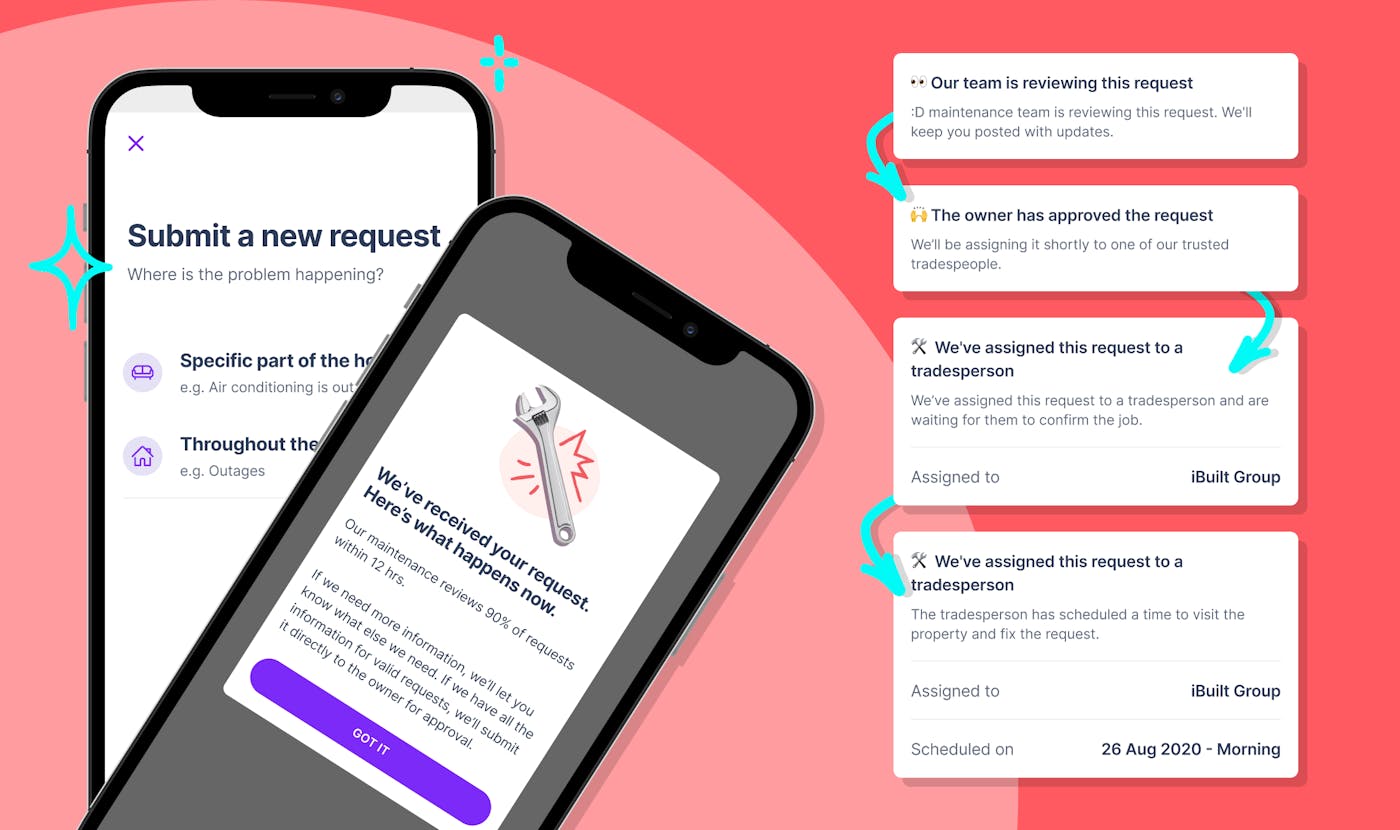 Step 3: Your landlord reviews the request, and you get notified when it's approved
We'll shoot you a push-notification once your landlord gives us the green light to source a tradie for the job. This will also pop up on the home page in your Tenant App.
Since the process is so streamlined. we manage to cut down the time it takes for an issue to be solved by quite a lot. To date, 94% of requests are approved by us within 12 hours, and 98% of approved requests get assigned to a tradesperson within 24 hours when it's reported through the Tenant App!
This helps you get a tradie booked sooner.
If we need more details to approve a request, we'll also let you know in the app, where you can add photos, descriptions, and so on.
Step 4: The job is assigned to a tradesperson
With the owner's tick of approval, we're able to handpick an experienced tradesperson from our trusted network to fix the sink.
To gain access to the property, our tradesperson will contact you to organise the right time to come over. If you're not free, our management team can give access with our own set of keys if that's necessary. 
Plus, we give you the contact details of your assigned tradesperson through the app, so you can reach out if you need to.
If you log into your Tenant App you can at any point see the status of your maintenance request, and what's happening next. So whenever you have the question "what's going on with my maintenance request?", we'll have the answer.
Step 5: The sink is back in action, and you're free to kick your feet up
Within a few days, a push-notification in your Tenant App will tell you when the sink has been fixed.
And now you're free to get on about your day and do the things you love. Dishes can wait until tomorrow!
Disclaimer: The information provided on this blog is for general informational purposes only. All information is provided in good faith; however, we do not account for specific situations, facts or circumstances. As such, we make no representation or warranty of any kind whatsoever, express or implied, regarding the accuracy, adequacy, validity, reliability, availability or completeness of any information presented.
This blog may also contain links to other sites or content belonging to or originating from third parties. We do not investigate or monitor such external links for accuracy, adequacy, validity, reliability, availability or completeness, and therefore, we shall not be liable and/or held responsible for any information contained therein.