Out of hours and urgent - two things you don't want to hear together (until now)
When you've got a burst water pipe flooding your bathroom, or a malfunctioning fridge that also happens to be fully stocked at 8 pm on a Friday night, the worst thing that could happen is having to wait until Monday morning to get it fixed. Unfortunately, this is a common occurrence when urgent property maintenance issues pop up outside of business hours. 
The Maintenance Team at :Different identified that 40% of urgent requests occur out of hours. So who looks after these tenants in their hour of need? This was the exact question we needed to solve, and fast.
40% of urgent maintenance requests occur outside of business hours.
Introducing automatic processing
To truly offer full-service property management, it is important we have a process in place for these urgent issues to be resolved, whether or not it's within business hours. 
In our recent update to the :Different tenant app, we've included a process which empowers tenants to take immediate action to address urgent issues.
How urgent out-of-hours maintenance requests are handled
In the most recent update to the Tenant App, we've set up a process that guides tenants through the different courses of action they can take to resolve any urgent maintenance issues that pop up outside of business hours. 
We believe that this not only gives tenants more transparency in these kinds of stressful situations but also resolves the problems more efficiently.
Here's how it works.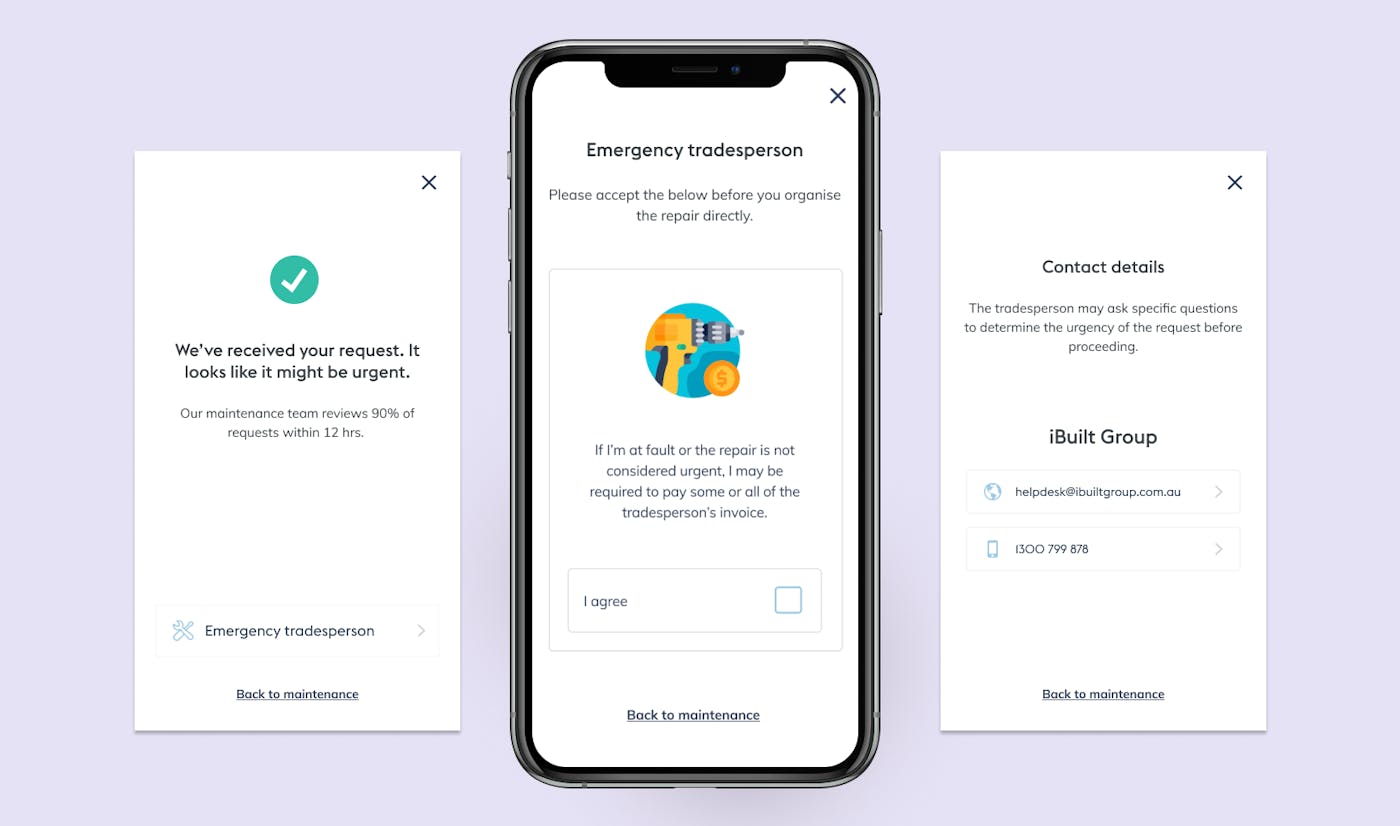 1. The tenant submits a maintenance request
Maintenance requests are submitted through the :Different Tenant App with prompts for a short description of the issue, and pictures and videos that show what's going on.
2. :Different characterises the request & notifies the tenant about next steps
Our system automatically characterises urgent requests based on the state and the type of issue. If it is an urgent request that has occurred out of business hours, we'll notify the tenant about the actions they can take. 
3. The tenant acknowledges their responsibility
Whilst we're all about empowering tenants to take necessary action in urgent situations, we're also dedicated to protecting the owners' best interests. 
Legally, owners are only responsible for urgent repairs if they were not caused by the tenant, so they shouldn't need to reimburse tenants for maintenance costs if the issue was caused by negligence.
That's why we've included a step which asks tenants to accept responsibility if the maintenance issue is not actually urgent, or if it has occurred because of negligent behaviour. 
4. The tenant is automatically provided with contact details of :Different's emergency tradespeople
Once they have acknowledged their responsibilities, tenants are able to access the contact details of :Different's emergency tradespeople. With this, they can organise emergency repairs with a trusted tradie in our network while ensuring that the rates are competitive, and the quality dependable.
5. The owner is notified of the situation
Owners are notified when a tenant has been shown the contact details of our vetted emergency tradies outside of business hours. This not only gives them the confidence that they won't be overcharged, but also that the tenant has verified that they may be responsible for payment if the issue was caused by negligent behaviour.
Of course, for the 60% of urgent maintenance issues which occur within business hours, tenants and owners can rest assured that the :Different Maintenance Team are here to resolve them. Whilst we want to empower our tenants to make their own decisions in emergency situations, we're dedicated to making the renting experience as effortless and stress-free as possible.
Disclaimer: The information provided on this blog is for general informational purposes only. All information is provided in good faith; however, we do not account for specific situations, facts or circumstances. As such, we make no representation or warranty of any kind whatsoever, express or implied, regarding the accuracy, adequacy, validity, reliability, availability or completeness of any information presented.
This blog may also contain links to other sites or content belonging to or originating from third parties. We do not investigate or monitor such external links for accuracy, adequacy, validity, reliability, availability or completeness, and therefore, we shall not be liable and/or held responsible for any information contained therein.