It goes without saying that great communication is key to a great property management experience. From a survey we conducted with our customers, we found that 27% of owners signed up to :Different because they wanted a property manager who was "responsive" and provided "speedy communication".
There are a number of ways :Different owners can get in touch with us to receive the speedy, reliable communication they expect and deserve. In this guide, we'll let you know the best ways for you to get in touch with us, so that you know exactly where you can go when you want answers.
We offer all of the same services as regular property managers, but you've probably noticed that there are a few things that are a bit different (pun unavoidable) about our owner experience. 
You may have heard of our Owner App which keeps you up-to-date on everything you need to know about your property. You might also be familiar with our single inbox (hello@different.com.au) where you can ask any questions you might have.
Whilst we truly believe that these things allow us to provide the best service possible, we also understand that you might have questions around who will be looking after your property and how you can get in touch with us.
A team of experts, here to help.
As a :Different owner, you get access to our entire team of experts, here to help when you need us. You'll experience a fresh take on property management with our experienced team of Property Partners who are here to jump on issues, help you find the best solution and keep your tenants happy along the way.

Maintenance issues are handled by our maintenance team (backed up by our trusted local trade network), our leasing team is dedicated to finding you great tenants, and any finance questions are answered by - you guessed it - our dedicated finance team. 
Gain consistent, specialised support for all aspects of your investment property, including Compliance, Leasing and Maintenance, with your dedicated Property Partner on-hand to support you whenever you need knowledge and trusted advice about more nuanced issues.
Talk to us the way you want.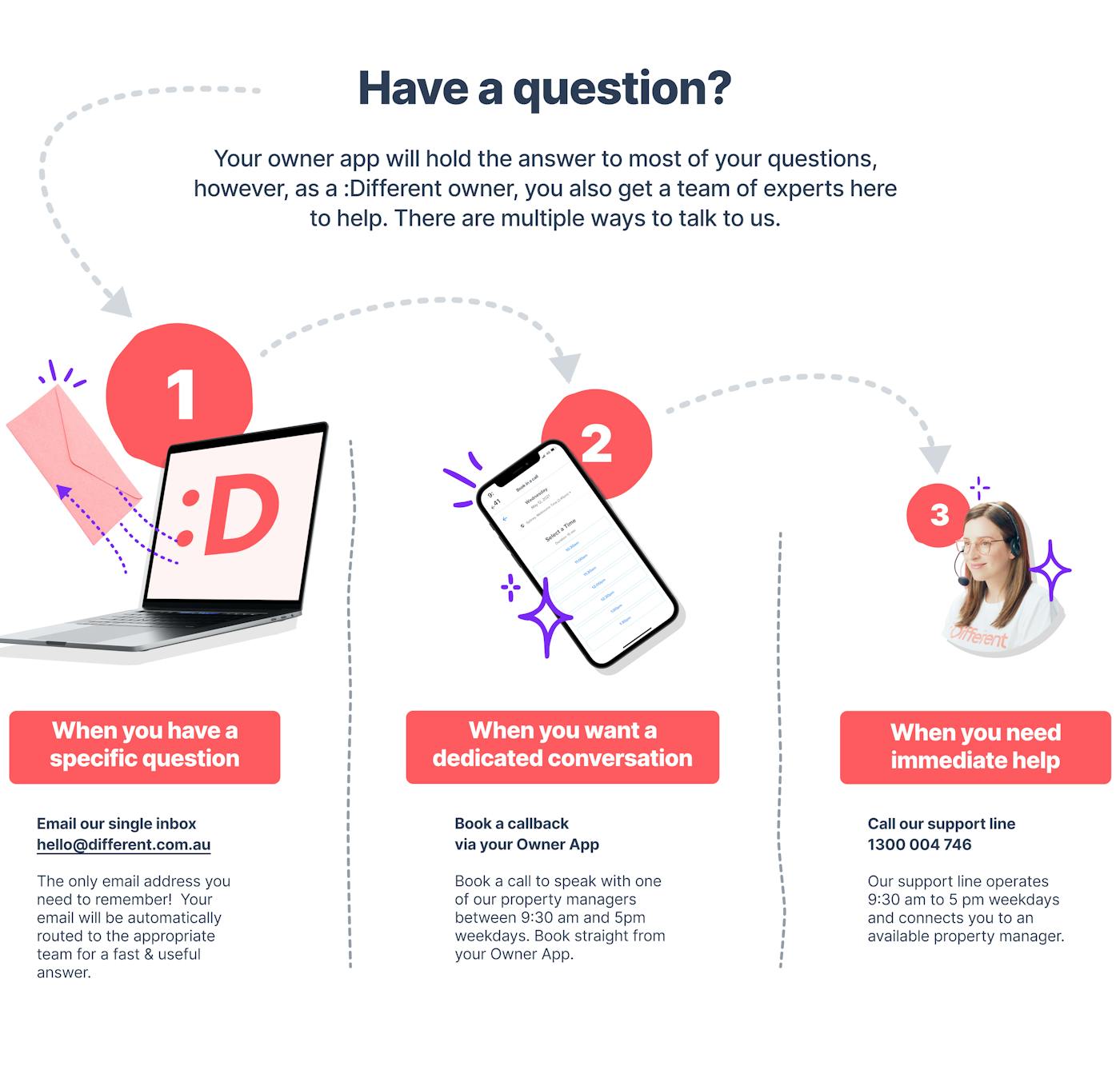 Although you don't have a single, dedicated property manager, that doesn't mean you won't have the support and help you deserve. Every :Different owner has access to our Owner App, fondly dubbed by our owners as a "one-stop shop" which holds the answers to the most common questions you might have. 
Of course, when you need to speak to someone, our team is here to help and provide you with dedicated support. There are three main ways you can get in touch:
When you have a specific question
You can email our single inbox, hello@different.com.au (the only email you need to remember!). This inbox is monitored and accessed by every team in the company, allowing for your message to be passed on to the right person to ensure you receive a helpful response straight away. 
Benefits of our single inbox
Your question is routed to the appropriate team to ensure the right person can answer your question
Fast and responsive answers (we answer 90% of emails within 8 hours)
Save the one email address (hello@different.com.au) and write to us whenever you want
Keep track of all communications directly from your Owner App
Our internal tracking & monitoring ensures we keep every team member accountable to speedy and high-quality responses
When you want to have a dedicated conversation
You can book a call through your Owner App to speak with a property manager. Not only does this save you time by letting us call you back at a time that suits you, but it also helps us to be better prepared to answer your questions.
When you need immediate help
Our support line is here for you. When you can't wait for a callback or email response (and we get it, sometimes you or your tenants need answers, fast), you can call our support line on 1300 004 746 number to speak to a property manager. This line is operated during business hours (9:30 am - 5 pm weekdays). 
Benefits of our support line
Offers immediate assistance for any urgent issue that you or your tenants are facing
Get answers to any questions you need answered quickly, when email or book a call won't suffice.
Disclaimer: The information provided on this blog is for general informational purposes only. All information is provided in good faith; however, we do not account for specific situations, facts or circumstances. As such, we make no representation or warranty of any kind whatsoever, express or implied, regarding the accuracy, adequacy, validity, reliability, availability or completeness of any information presented.
This blog may also contain links to other sites or content belonging to or originating from third parties. We do not investigate or monitor such external links for accuracy, adequacy, validity, reliability, availability or completeness, and therefore, we shall not be liable and/or held responsible for any information contained therein.