With a name like ours, it's no wonder that we always get asked how we're :Different. Some owners may say it's our innovative Owner App which makes us different – other owners might love us for our transparency. Here, we believe it is our proactive approach to property management that truly makes us different – we're always looking for ways to not only be more proactive in managing your property and communications, but also in listening to feedback and understanding how we can do things better. 
Having talked to frustrated owners who felt like we were just a "messaging service" and experienced "poor/no follow-up", we realised we needed to find a better way to help owners stay informed and in control of what was happening with their property. That's why earlier this month, we introduced Property Partners as an addition to our service offering, working together with our smart tech and team of specialists to take care of you and your tenants' investment property needs.
Introducing Property Partners: your partner in the home
Every :Different owner (and their tenants) will be paired with two Property Partners, who are your personal points of contact who can provide you with support and advice when you need it. With one based in Australia and one in Colombo, this means that you're covered if you find yourself needing help in the late hours of the night. They work together with our smart tech and team of experts to provide you with consistent, reliable service so that your days off are really days off.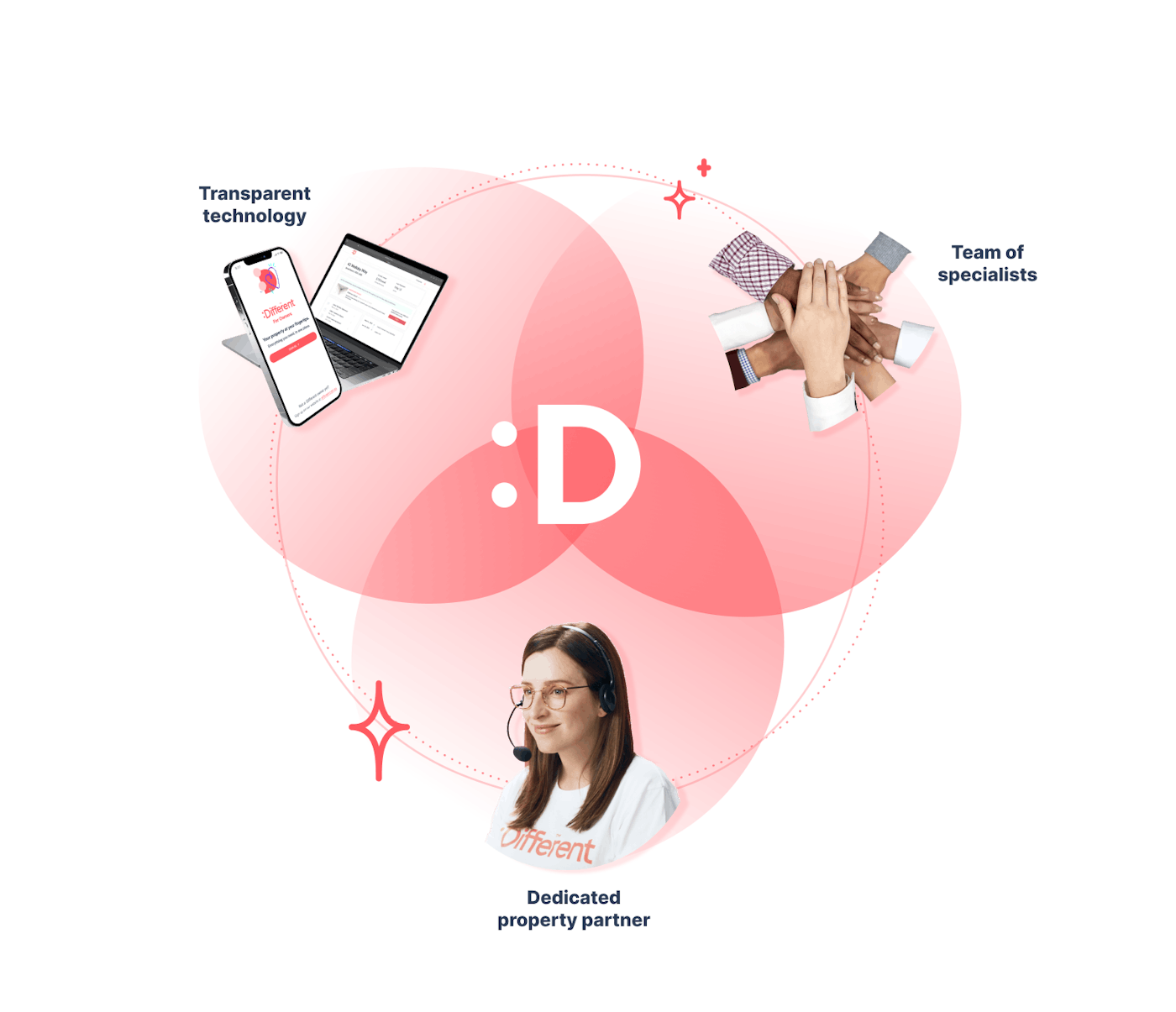 We've covered our 3-part service offering in our blog post about our Property Partners in more detail, but here's a quick rundown of how it all works together. 
Your Owner App is the first point of call to get access to information and make fast decisions, eliminating the need for phone calls or emails by 70%
Our team of experts provide consistent, specialised support for specific moments such as Compliance, Leasing and Maintenance 
Your Property Partners are there to support you whenever you need knowledgeable, trusted advice
Now, you might be wondering: why the change? 
As much as technology helps make both your (and our) life easier, at the end of the day, when it comes to looking after your home we know we can't do it without people. It's about how our team can help manage your property so that you can spend your time focusing on the things that really matter. 
After listening to our owners' feedback, we understand that there are moments when you just want to talk to someone – maybe your tenant is disputing their responsibility for a maintenance issue, or maybe they're 3 weeks behind on rent. And that's exactly why we've made these changes. 
We want to ensure that we can be readily available for every single owner and tenant at these key moments, so that you can consult a trusted advisor who knows your property (and its history) like the back of their hand, and can feel confident that they will help you follow the issue through from beginning to end. 
With your Property Partners coming onboard to join your team, you can trust that they are taking care of it. 
How are we still :Different?
Understandably, a lot of our owners have asked us the question: Considering this change, how is :Different still… well, different? After all, having a Property Partner as your point of contact does indeed bear some resemblance to the traditional property manager model. 
Here's why we're :Different.
We're consistent, reliable and backed by our team of experts and smart tech
While we assign our owners Property Partners, they don't just work on their own – they are backed by our smart tech, as well as a team of specialists, to ensure that you receive the consistent, reliable service you deserve.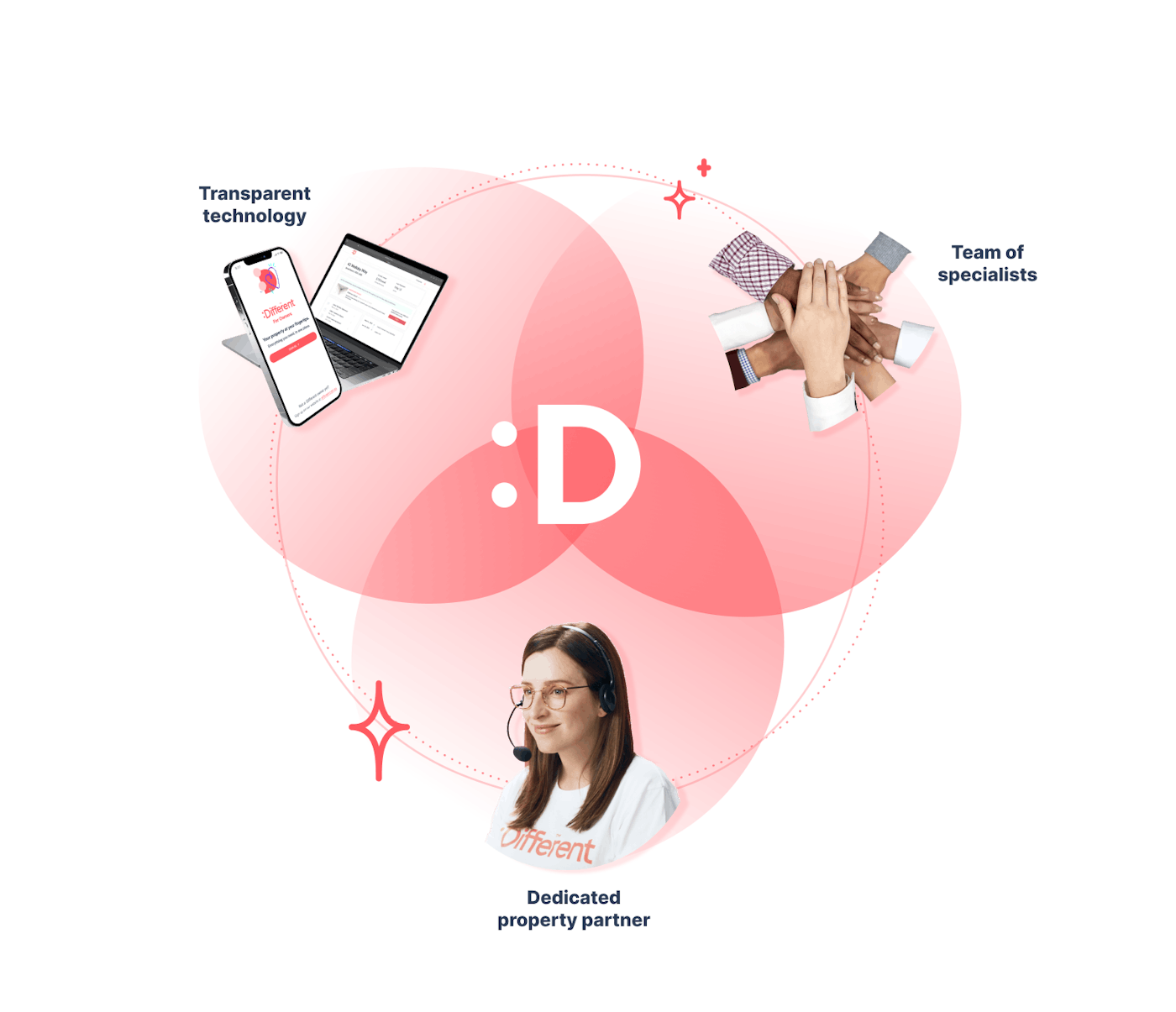 Traditional property managers are often overworked and can find themselves individually responsible for up to over 100 properties each. Turnover rates in the industry are also known to be high – in fact, the average tenure of a property manager in Australia is only around 9 months. 
We know this is a problem, not just for owners and tenants, but for property managers too. That's why our way of doing things pairs Property Partners with all the tools they need - our smart tech and team of experts. This allows them the freedom to do what they're best at - solving tricky problems and working closely with owners & tenants to reach the best outcomes possible.
For specialised areas, our team of experts are always on hand, while our smart tech takes care of the many mundane activities around property management.
Together, these 3 service elements help you stay informed and in control, giving you the confidence that your property is taken care of, so you can focus on the things that matter.
We're proactive about property management, now and always
We're not perfect - but we are different, because we're all about proactivity. We're always listening out for your feedback to understand how we can help better take care of your needs - and we mean it. In response to feedback from our owners we have:
Introduced an EOFY pack (aka everything you need to do your taxes) when 78% of owners told us that admin/compiling data was what gave them the biggest headache during tax time.

Developed maintenance cost estimates based on historical data when 25% of owners we surveyed said that "lack of transparency with regards to repairs and maintenance" was their biggest concern when it came to maintenance.

And of course, our amazing Property Partners were in response to feedback that sometimes, in tricky situations, owners just need to talk to someone who will follow through with the issue for them, from beginning to end.

It's this proactivity that helps us become better partners in the home so that we can help release you from one less worry in your busy life.
Want to stay up-to-date with all things real estate?
Subscribe to our FREE monthly newsletter for the best property content on the internet! 
Disclaimer: The information provided on this blog is for general informational purposes only. All information is provided in good faith; however, we do not account for specific situations, facts or circumstances. As such, we make no representation or warranty of any kind whatsoever, express or implied, regarding the accuracy, adequacy, validity, reliability, availability or completeness of any information presented.
This blog may also contain links to other sites or content belonging to or originating from third parties. We do not investigate or monitor such external links for accuracy, adequacy, validity, reliability, availability or completeness, and therefore, we shall not be liable and/or held responsible for any information contained therein.