When it comes to property maintenance, speed, efficiency and pricing are what can make or break a 5-star experience. 

As a property owner, we know that you want the problem fixed as soon as possible so that your tenants can live comfortably in their home. However, at the same time, you also want to weigh up your options to make sure you're getting charged a reasonable price. 

Here's the problem: striking this balance between speed and cost can be difficult, especially if you don't have quick access to transparent information around how much your maintenance job will cost. 

So, we asked ourselves the question: how do we help owners close these requests more quickly?
"We believe that if owners already have some knowledge of what the job will cost, they will be more confident that they are being charged a fair price. This will reduce the need to source quotes to compare prices, and make it quicker to fix the issue."
Mina Radhakrishnan, co-founder and co-CEO at :Different
Ensuring our owners have transparency when it comes to the prices they pay for maintenance is an important goal for the company. A survey we conducted in August 2020 found that 25% of investment property owners quoted maintenance-related issues as one of the biggest challenges in their property investing journey. Of these, "lack of transparency with regards to repairs and maintenance", "how necessary it is", " who is doing it" and "what the cost is" were cited as the biggest concerns. 

That's why, in this product update, we're introducing a data-driven way to not only give owners the confidence that they're paying fair property maintenance prices, but also help them make decisions more quickly.
Introducing maintenance cost estimates
At :Different, 12.8% of maintenance requests come with quote requests from owners. However, given the time it takes to arrange for three tradies to travel to the property, inspect the problem, and then provide a quote, this could mean that the maintenance problem takes considerably longer to solve.

To reduce the time spent sourcing quotes (and thus get the right tradie on the job as soon as possible), we have introduced maintenance cost estimates on the :Different Owner App, based on our historical data on the price of similar maintenance jobs. 

These estimates show the 80th percentile of the relevant data set. Put simply, it will tell owners how much 80% of other owners paid to get similar jobs fixed. This will give owners a sense of how much they can expect the job to cost while saving the time it takes to source quotes. 

Here's an example of how it works. 

If your tenant is looking to get a blocked sink fixed, you'll receive their maintenance request along with a maintenance cost estimate. Because 80% of blocked sinks have cost owners under $524 to fix, you'll be shown the following estimate: 

"To date, 80% of maintenance requests for "Blocked Sink" cost $524 or less"

The top 20% are excluded from this estimate to provide wriggle room for cases with special circumstances. For instance, a severe blockage that caused irreparable damage to the sink itself may have cost an owner over $524 to fix, as the job would have involved installing a new sink on top of unblocking the drain. 
In the latter half of 2020, requests with quotes took 104% longer to close than maintenance requests which didn't require quotes.
Currently, we've implemented maintenance cost estimates for 18 different job types, but we're constantly adding more so that owners can feel confident that they are not paying too much. 
"We're going to be continuing to review data and adding cost estimates for many more types of jobs. We'll also be testing out new ways of showing this data to owners so that they can feel more confident about making decisions."
Mina Radhakrishnan, co-founder and co-CEO at :Different
How our maintenance cost estimates work in practice
1. Owner gets a notification of the maintenance request 
After the tenant submits the maintenance request (along with pictures and a short description of the problem), the :Different Maintenance Team will review it to confirm that it's a legitimate issue. Once processed by the Maintenance Team, you will receive a notification with all the details of the maintenance request. 

We're all about efficiency and transparency, so we've included real-time data on how quickly we get to tenants' maintenance requests in our maintenance tracker; in November and December 2020, we reviewed 80% of tenants' maintenance requests in less than 24 hours. 
2. Owner is shown a maintenance cost estimate
If the estimated cost of the job is over $500, you will be shown a maintenance cost estimate: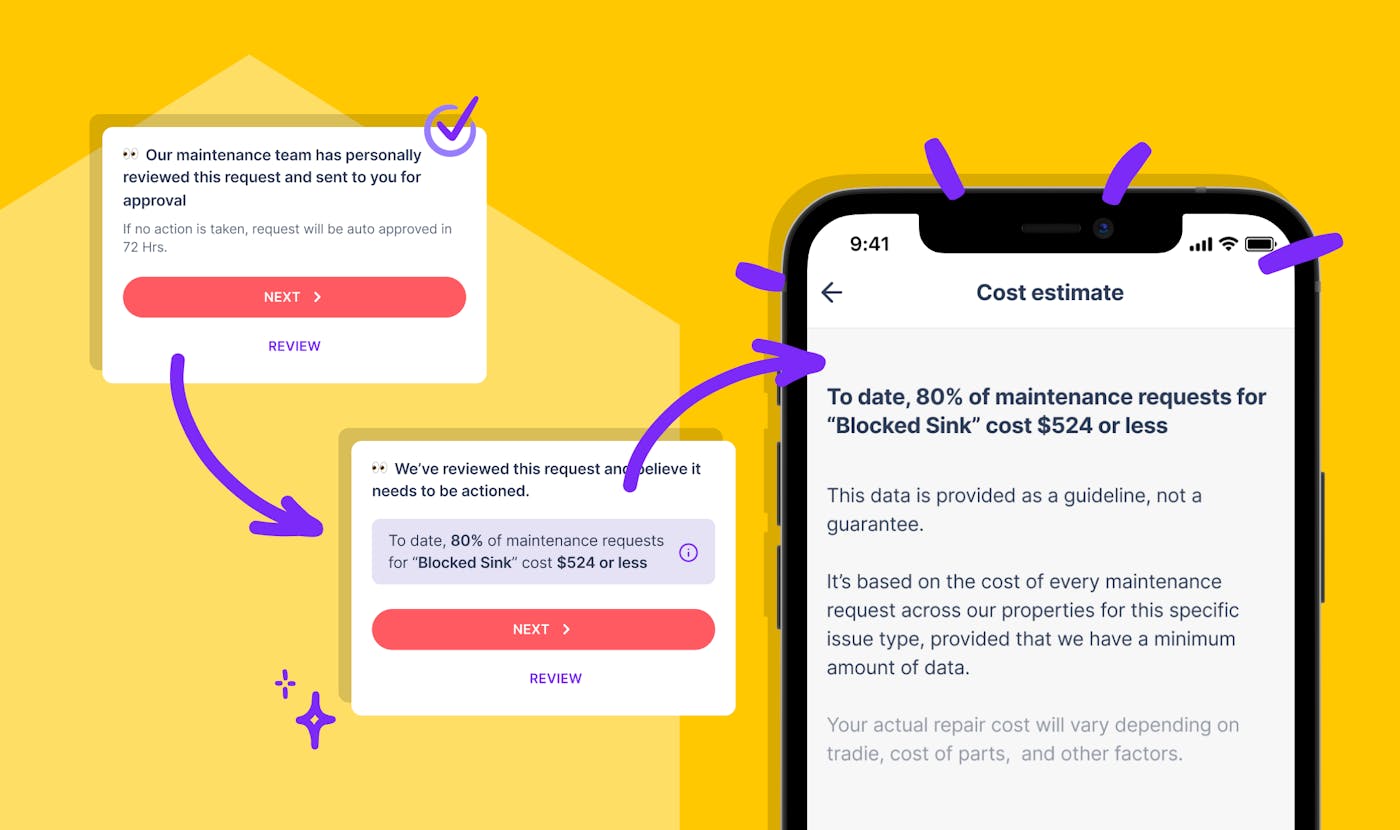 3. Owner chooses whether to action the maintenance issue or request quotes 
If you're happy to go ahead knowing the estimated cost for the job, we can immediately start actioning the issue. 

Of course, if after seeing the maintenance cost estimate owners still feel the need to obtain quotes, we're here to help source them. 

So far, only 10.6% of owners who have been shown maintenance cost estimates are requesting quotes, meaning that we're actioning almost 90% of our owners' maintenance jobs much more quickly. 

For owners who want to be more money-savvy with their investment, here are some tips to budget for your investment property maintenance. 
Want more content on property management and real estate?
Subscribe to our FREE quarterly newsletter for the best property content on the internet!
Disclaimer: The information provided on this blog is for general informational purposes only. All information is provided in good faith; however, we do not account for specific situations, facts or circumstances. As such, we make no representation or warranty of any kind whatsoever, express or implied, regarding the accuracy, adequacy, validity, reliability, availability or completeness of any information presented.
This blog may also contain links to other sites or content belonging to or originating from third parties. We do not investigate or monitor such external links for accuracy, adequacy, validity, reliability, availability or completeness, and therefore, we shall not be liable and/or held responsible for any information contained therein.